'We can be proud': Fire service leaders offer words of hope as we embark upon a new year
Despite a challenging year, firefighters can look ahead to 2021 with hope, inspiration and renewed energy
---
We could hash through everything that has made 2020 so difficult and, to use another overworked term, unprecedented, but instead, let's focus on the positive. Let's reflect on the remarkable perseverance displayed for fire and EMS personnel and then look ahead to 2021.
To help push us forward are the FireRescue1 columnists and editorial advisory board members, many of whom have been in the trenches as well and others who have employed their years of experience to offer expert advice to help navigate the year's unique challenges.
Pay forward the positivity: Share these words of hope, inspiration and encouragement with members of your department.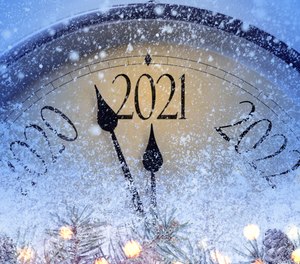 Joanne Rund: 'We will weather the storm'
To all our emergency response teams out there, we did an amazing job during an extraordinary year. You should be proud of the support we provided our citizens and each other this year.
Continue to stay the course and support each other and our citizens. The citizens need us now more than ever. Be your brothers' and sisters' keeper during these trying times. I know it is exhausting, and I know it is not over yet, but we will weather this storm and come out on the other end stronger. In the words of the National Fallen Firefighters Foundation, "Everyone Goes Home."
Joanne Rund is the fire chief for the Baltimore County (Maryland) Fire Department.
Rom Duckworth: 'We are here for you'
As firefighters, it is in our very nature to help those in need. By both profession and inclination, we are problem-solvers and caregivers. Our most sacred traditions are solidarity and support of those who fight beside us. These are, perhaps, our greatest strengths.
But in a year this difficult, it can become easy to be consumed by our own personal struggles, especially around the holidays.
We must remember that, as firefighters, we never fight alone. If you are struggling, don't hesitate to reach out to your brothers and sisters, whether in-house or across the country. We are here for you. And remember that if you have something to give, a lifeline to throw, reach out to check on others in your house.
Remember that everyone is fighting some kind of uphill battle, and unfortunately, as firefighters, we tend to hide it well. A simple holiday check-in may open a brother or sister up to the support they need, but would never ask for.
Rom Duckworth is a career fire captain and paramedic EMS coordinator for the Ridgefield (Connecticut) Fire Department. 
Ron Siarnicki: 'We can be proud'
Even though 2020 has been one of the most challenging and overwhelming years for the American fire service, each of our nation's first responders have stepped up to the plate and done everything humanly possible to make the best of the situation at hand. Fire and EMS personnel have gone above and beyond what would normally be expected of them because of their commitment to duty, honor and the traditions of the fire and EMS community.
2021 is right around the corner and with the expectation of several vaccines that will be made available in the very near future, a glimmer of hope is in front of us. We must stay the course, continue to meet the needs of our community and work to reduce the proliferation of the disease. As an industry, we have continued to demonstrate the right way to accomplish that, by wearing masks, social distancing and taking know precautions to stop the spread. For that and for many other reasons, we can be proud that we are the nation's first line of defense.
Ron Siarnicki is the executive director of the National Fallen Firefighters Foundation.
Keith Padgett: 'You are the very best at what you do'
The passion, dedication and true professionalism you have shown echoes around the world and proves without a doubt, that you are the very best at what you do. With that said, stay the course and focus on the future and what may lay in store for this next year. You will continue to do great things and leave your mark on this green earth, and for that we are extremely proud of you!
Keith Padgett is a retired fire chief, currently serving as the Fire and EMS Academic Program Director with Columbia Southern University. 
Linda Willing: 'Know that they recognize what you do'
On the night of Oct. 21, the second largest wildfire in Colorado history swept into my neighborhood on hurricane-force winds. We had less than 10 minutes to evacuate. That night, over 300 homes were lost in the area, including 28 in my immediate vicinity. Mine, thankfully, was not one of them.
It was not good luck that saved my house. A neighbor's trail cam shows firefighters working through the night in unbelievable conditions – winds of nearly 100 mph and temperatures over 165 degrees. There is evidence of spot fires that were extinguished within 10 feet of the back of my house.
I may never meet the firefighters who saved my home. But I will never forget them, or ever stop appreciating what they did.
In this difficult year, I want to say this to all firefighters: You may not ever meet those you help. But know that they recognize what you do and the risks you take and will never stop being grateful.
Linda Willing is a retired career fire officer and current president of RealWorld Training & Consulting.
Phil Stittleburg: 'We are writing another chapter in our remarkable history'
It's bad. And it's probably not going to get a whole Iot better for a while yet. But adversity is our normal working environment. For hundreds of years, we have overcome difficulties through training, self-discipline, perseverance and boundless dedication. This is no different, and we will ultimately prevail. We are simply writing another chapter in our remarkable history, one that will be read with pride by future generations.  
Phil Stittleburg is fire chief of the La Farge (Wisconsin) Fire Department, former chair of the National Volunteer Fire Council, and past president of the IFE-USA branch.
Marc Bashoor: 'Stand up, step up and be ready to lead'
Firefighters have always risen to the challenge. As 2020 has been such a challenging and draining year, we look forward to the new opportunities for success and forward progress in 2021. Adaptation is history on firefighters' side – and if 2020 has proven anything, it is that adaptation will also be our future.  
Stand up, step up and be ready to lead in the new year. We know that the simple change of the calendar won't change the challenges, but rather will provide us with a new opportunity to focus on a culture of safety and success.
[Share Chief Bashoor's message of encouragement on Instagram]
Chief Marc S. Bashoor is the Highlands County (Florida) public safety director, and serves as the FireRescue1 and Fire Chief executive editor.
Ted Aroesty: 'I could not be prouder'
Looking at 2020 at first glance, it is hard to think of any positives. Taking a step back and reflecting a bit harder, the vision gets a little clearer.
I could not be prouder of how resilient our members have been adapting to a fast-changing environment. At times we were changing orders multiple times a day based on guidance from the health department. Whoever thought firefighters could handle that much change? Service never skipped a beat, even as this silent killer was out there amongst the shadows.
Looking forward, I believe our people now know that they are stronger and more capable of handling whatever is thrown their way based on the unimaginable that they have already dealt with. I would never have wanted to go through this pandemic, but at least we grew through it. I believe that we will be smarter and safer in our overall operations going forward based on the lessons learned from the experiences.  
Ted Aroesty is the executive director for the Brighton (N.Y.) Fire District.
Dr. Lori Moore-Merrell: 'Remember why you do what you do'
Emergency responders have experienced, and continue to experience, the fear, the temporary exhaustion, and the overall fatigue of the ongoing 2020 state of affairs. For those responders who have been exposed and those who experienced and survived the COVID-19 disease state, the unknown long-term effects linger. Even so, we have hope! Hope in a vaccine, hope in science and knowledge of the disease process, hope in a return to our "normal" prior to COVID, hope in our faith, and hope in each other! It is important to note that "hope" is a verb, not a noun. Hope can be a recharge for you every day, providing an infusion of resiliency. Remember who you are and why you do what you do!
I see many in our ranks sharing sunset photos on their social media platforms. I think these often represent hope for a better tomorrow. As the bright light of the sun transitions to orange and red and then fades, we have hope of a new sunrise and a new opportunity to take hold of the day ahead. 
Even now, take a moment to be still, take a deep breath and think about what strides have been made by so many people, including you, to get through this pandemic. Think about the science and the resilience of the fire and emergency services as a whole, and what we can do next to change the outcome.
Remember who you are and why you do what you do: Ut Prosim – That I May Serve.
Dr. Lori Moore-Merrell is the president/CEO of the International Public Safety Data Institute.
Robert Rielage: 'Be a good listener'
My father-in-law, who was a World War II Navy officer had never talked to anyone, not even to his wife, about his experience in that war. About two nights after my return from Vietnam, my father-in-law began to ask me about my experiences and soon began to elaborate on the series of battles that his ships had experienced during the war. My father-in-law discussed those lost friends and shipmates, and I talked about those I lost, including two classmates from my University of Cincinnati AFROTC unit. 
My father-in-law had held his emotions in check for 27 years, waiting for someone whom he thought would understand his emotions. I had not only shared mine, but I also learned a valuable lesson that I've employed a number of times in my fire service career: People will talk about their emotions and their experiences when they sense someone will understand.
During 2020, firefighters' emotions have run the gamut. Knowing when and how to ask the right questions, and then being a good listener, might be the key that unleashes a flood of emotions that a firefighter might have held inside and the effects of all of this on their mental and physical stability. Being there for each other makes all the difference.
Robert R. Rielage is the former Ohio fire marshal and has been a chief officer in several departments for more than 30 years. 
Aaron Zamzow: 'Never take your health for granted'
Stay safe, stay healthy, stay positive!
Never take your health, your friendships or family for granted. 
Make the most out of each day.
Aaron Zamzow is a firefighter/training officer for Madison (Wisconsin) Fire Department.
Billy Goldfeder: 'We are doing OK'
One of the greatest gifts we as firefighters have is a constantly delivered perspective. By the very nature of our responsibility to quickly go help people who are having really bad days, it reminds us that so often, we are doing OK. Rest assured, I'm not pushing anyone to think in a false sense of over-optimism, but in so many cases, when we see what others are dealing with, it's our privilege to help them – and our gain is often thinking internally about how fortunate and blessed we often are.
Billy Goldfeder is the deputy chief for the Loveland-Symmes Fire Department in Ohio, and also serves as senior fire advisor to FireRescue1/Lexipol.
Chris DelBello: 'Use training to find motivation through the hard times'
2020 has proven to be the "year of years." Focus on your station and crew. That's what keeps me motivated. I have a crew that is second to none. We love this job! We train hard and play hard. We are professional in every way, and we use every incident as an opportunity to train. We take care of each other. Look to your station. Look to your crew. Use training to find motivation to get through the hard times.
I would also implore you to think back to why you wanted this job to begin with. Yes, we have to put up with a lot, but it's worth it – every miserable part of it!
Step up. Become an informal leader at your station. Even if you can't motivate everyone, I promise it will take your mind off 2020. Even if just for that shift.
Find someone you can talk to. Don't be afraid to reach out to someone for guidance.
Stay safe! Train hard! Your mind will be sharpened while eliminating the doldrums of 2020.
Chris DelBello is a senior captain with the Houston Fire Department.
Gary Ludwig: 'We will soon get the green light'
Now is not the time to become complacent. We must hang on, keep pushing forward, as a vaccine will soon be available.
For now, it's essential that we, as firefighters and paramedics, not let our guard down. Do not become complacent. Do not think it can happen to someone else, but not you. Stay vigilant!
We are close to getting through this. As I have said repeatedly, there is always a green light after the red light. The red light has been on for quite a while now, and we will soon get the green light.
[Read Ludwig's full article here]
Gary Ludwig is the fire chief of the Champaign (Illinois) Fire Department.
Jerry Brant: 'Someone needs to hear your story'
Twenty years from now, someone is going to ask you what it was like in 2020. They won't want to hear you rattle off national statistics. They will want to know what you did. How did you feel? Were you afraid?
As this year draws to a close, take a few minutes to reflect. Remember those first awkward first Zoom calls or making hand sanitizer. Remember the big calls. Remember those who are no longer with us. And whatever you do, don't give up now because 20 years from now, someone needs to hear your story of 2020.
Former Vice President Hubert Humphrey once said: "It was once said that the moral test of government is how that government treats those who are in the dawn of life, the children; those who are in the twilight of life, the elderly; and those who are in the shadows of life, the sick, the needy and the handicapped."
As first responders, we are constantly called upon to take that moral test, and history will document that in 2020, we excelled, even in the face of extreme adversity.
[Read Brant's full article here]
Jerry Brant is a senior grant consultant and grant writer with FireGrantsHelp.