From the Bay to Brooklyn: Firefighters to cycle across US for 9/11 anniversary
The ride, called Bay2Brooklyn, is "dedicated to public safety, all military branches, medical providers," according to the group's Facebook page
---
By Jessie Forand
SAN FRANCISCO — In honor of the 20th anniversary of Sept. 11, a group of active and retired firefighters is planning to bike across the U.S., from San Francisco to Brooklyn.
The ride, called Bay2Brookyln,  is "dedicated to public safety, all military branches, medical providers," according to the group's Facebook page.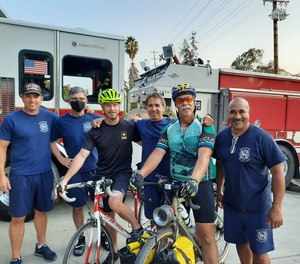 A group of 10 riders comprised of firefighters and military veterans, will leave from the San Francisco Bay area and plan to cross the Brooklyn Bridge into New York City on Sept. 9, in time to attend memorial events in honor of the 20th anniversary of the 9/11 terrorist attacks.
The public can follow along with riders, who range in age from 38-72, virtually along the route on the Bay2Brooklyn website.
"Trying to come up with a way to honor the 343 firefighters that gave their life on that day, we thought that this would be a good way to do that," retired Santa Clara Firefighter Darrell Sales told ABC 7. "We're looking at averaging 100 miles a day, going across the heart of the United States, connecting with fire departments each way and then coming into New York in time for the 9/11 events."
The group is working to create a blog for those following along at home, and supporters can donate online and purchase apparel with the ride's logo.
"People will ask you, 'why do you do this? How do you get the energy to do something like this?'," Sales said. "It really goes along with your thought process for the fire service. You just make that sacrifice, because that's what you do because you want to give back to your community."