Man who posed as 9/11 firefighter jailed for fraud
Steven Shapiro was sentenced to 68 days in jail for fraud, dealing in stolen property, grand theft and illegal use of credit cards
---
By Eliot Kleinberg
The Palm Beach Post
PALM BEACH COUNTY, Fla. — A Palm Beach County judge Friday ordered jail time on credit-card theft charges for a man who'd also claimed, apparently falsely, that he was a former firefighter who'd had been at Ground Zero on 9/11.
Steven Shapiro pleaded guilty Friday to fraud, dealing in stolen property, grand theft and illegal use of credit cards. Judge Samantha Schosberg-Feuer sentenced him to 68 days time served, plus about $900 in court costs.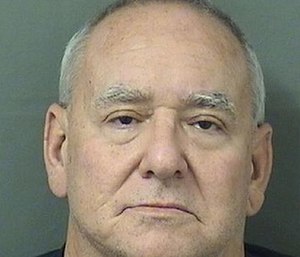 Shapiro, 56, had been booked April 16 on charges he used credit cards he found in the Delray Beach home of Ilene Clark, a woman from whom he rented a room, to buy $1,823 worth of items, including a television.
According to a Delray Beach police report, when detectives tracked him to a Fort Lauderdale physical-rehabilitation center, Shapiro reportedly confessed and told them he'd mounted the TV on his bedroom wall.
"That's probably how I blew out my disks," he said.
Clark said after the hearing that she wasn't happy with the sentence. She said she was not consulted by prosecutors and isn't optimistic she ever will see restitution.
Shapiro won't be getting out soon. He still has an out-of-county warrant for an unresolved DUI case in Central Florida.
Palm Beach County Court records show Shapiro was arrested in 2005 again and in December 2010 for writing worthless checks of $800 and $5,000, respectively. Court officials said he pleaded guilty in the 2005 case and was sentenced to 12 months of probation. The 2010 charge was dropped. Shapiro also was involved in numerous court cases in Connecticut, Arizona, and California, according to jail records and databases.
Don Prince couldn't attend Friday's hearing but has been following the case.
Prince, who co-founded the Station House Retreat, a Delray Beach substance-abuse treatment center for first responders, told the Palm Beach Post in early May that Shapiro briefly had worked there and had told people he was a fire lieutenant in Connecticut and had gone to Manhattan and to the site of the terrorist attacks.
In a January 2015 post on the Station House Retreat webpage, Shapiro identifies himself as "a retired firefighter lieutenant from Connecticut."
On Shapiro's Facebook page, in posts referring to Sept. 11, someone wrote, "You really fooled us Steve, but the whole 9/11 thing is beyond bad." Another said, "I have no tolerance for anyone who steals Valor!"
Copyright 2018 The Palm Beach Post