NY fire chief set to return to court to fight for 9/11 cancer benefits
Utica Fire Chief Russell Brooks said he has sought acknowledgement from the city that his chronic lymphocytic leukemia stems from his 9/11 response
---
By Greg Mason
Observer-Dispatch
UTICA, N.Y. — Attorneys are set to appear in court Thursday to argue whether a court should re-argue a lawsuit filed by Utica Fire Chief Russell Brooks against the city.
It will mark the latest chapter in the saga between the city and Brooks, who says he has sought acknowledgment from Utica officials that he is eligible for workers compensation benefits based on his chronic lymphocytic leukemia diagnosis.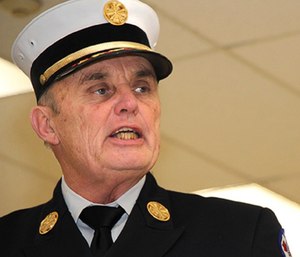 Brooks claims his CLL stems from his response during 9/11 recovery efforts at ground zero in 2001.
His lawsuit, argued in November, concerns acknowledgement for General Municipal Law 92-d benefits, which provides sick leave benefits for responders affected by certified World Trade Center-related health conditions.
The case was dismissed by state Supreme Court Judge Patrick MacRae in December when he decided Brooks' lawsuit was premature since the fire chief never formally applied for 92-d benefits.
In court papers responding to a motion to reargue filed by Brooks' attorney Earl Redding, the city maintained that Brooks is ineligible for 92-d benefits.
"Having reviewed (the reargument motion), we really don't see anything new in the papers," said Assistant Corporation Counsel Armond Festine. "That's really where we stand and what we're going to court with on Thursday."
In his motion, Redding argued that case law supports that Article 78 lawsuits do constitute as formal applications for matters such as benefits.
Festine, who prepared the city's response affidavit, wrote in his court papers that motions to reargue should be based on matters of facts or law that were overlooked or misapprehended by the court in its prior determination.
Among other reasons the motion should be dismissed, Festine wrote, is that Redding's motion only re-states the arguments set forth in the original petition.
"It is well settled that a motion to reargue is not designed to provide a party with successive opportunities to present arguments different from those originally presented," the affidavit reads. "The present motion herein basically repeats and reiterates all of the arguments previously made to the court."
The city has maintained that there is no medical evidence to support that Brooks' CLL was caused by his time at ground zero.
It was last January when Brooks initially applied for General Municipal Law 207-a benefits, which concern firefighters injured in the line of duty.
Utica Mayor Robert Palmieri rejected the application in May, however, and placed Brooks on paid, indeterminate, nondisciplinary leave based on concerns with Brooks' medical history, city officials have said.
Redding, representing Brooks, declined to comment when reached Friday, saying he had not yet received the city's response papers.
Copyright 2018 Observer-Dispatch