Tunnel to Towers CEO nearing Shanksville, Pa., part of 'Never Forget' memorial walk
Along his 500-mile walk, Frank Siller will visit the station house that responded to the United Airlines Flight 93 crash
---
Joshua Byers
The Tribune-Democrat, Johnstown, Pa.
SHANKSVILLE, Pa. — Inspired by those who gave their lives 20 years ago during the terrorist attacks of Sept. 11, 2001, Frank Siller, Tunnel to Towers chairman and CEO, has begun a more than 500-mile "Never Forget" memorial walk that will bring him to Shanksville on Saturday.
"What better way to pay tribute to these great heroes," he said during a telephone interview on Thursday.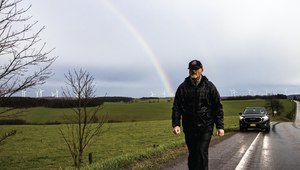 Siller arrived in Pennsylvania, via Maryland, this week. He began his journey on Aug. 1 at the Pentagon in Washington, D.C.
He walks roughly nine miles in the morning, breaks for lunch, and walks another handful of miles in the afternoon.
"I just show up and walk every day and think of the great Americans," Siller said.
By the time the trek is completed, he will have passed through six states — Washington, D.C., Virginia, Maryland, Pennsylvania, New Jersey, New York — in six weeks.
What drives him and his foundation, which has a number of programs, including paying off mortgages for fallen first responder families as well as gold star families, is his brother's story.
During the events of 9/11, Siller's brother, Stephen, was assigned to Brooklyn's Squad 1 and had recently finished his shift.
When he learned a plane had hit one of the towers at the World Trade Center, he returned to the station house to get his gear before driving to the Brooklyn Battery Tunnel, which had been closed for security purposes.
Siller said his brother strapped 60 pounds of equipment to his back and ran through the tunnel on foot to get to the towers, where he gave his life trying to save others.
Every day, Siller is joined by others from the foundation that want to walk with him, while also spending some time alone — always followed by a vehicle donated by GM that's driven by a retired New York City detective.
That former officer is John Huvane who has 40 years in law enforcement and security experience — 21 of which was with the New York City Police.
Huvane is a decorated public servant with numerous awards including the NYPD Medal of Valor for his heroism on Sept. 11, 2001.
"I lost so many friends on that day," he said.
Huvane has served on the Tunnels to Towers board since 2014 and as the director of First Responders and Military Services since 2020.
He considers it an honor to be part of the memorial walk and when he's not driving gets out to put in a few steps with Siller.
"I'm walking for all my brothers that I lost and my sisters that I lost and I'm walking for the widows that I've gotten to know," Huvane said.
There's a group of New York City firefighters that cook for the group in the afternoons and evenings.
Siller joked that he'll be the only person to walk 500-plus miles and gain weight because they feed him so well.
Thus far, the journey has been enjoyable, he said, adding that a lot of people honk and wave as they drive by.
Recently, a boy and his family waited by the side of the road with refreshments for him.
"Things like that are just very inspirational, and I know it's making a difference," Siller said.
His "hope" for this journey "is one, we make sure we never forget, and secondly, I want the youth to know the story of what happened on 9/11."
Huvane shares the vision to spread the stories and commended Siller and the foundation for all the good they've done.
Siller will arrive in Shanksville around 8 a.m. Saturday and head to the station house that responded to the United Airlines Flight 93 crash.
He said he's looking forward to meeting the firefighters that responded that day as well as any of the families of those who lost their lives fighting the terrorists on the plane.
Siller and a group of about 100 people will walk the distance from the town to the memorial site, where a small ceremony will be held.
After leaving Shanksville, Siller will travel East to Hershey before making his way to Easton.
On Sept. 9 and 10, he'll walk across Staten Island, New York, and Brooklyn.
The following day, on the 20th anniversary of Sept. 11, 2001, Siller will follow in his brother's footsteps with his family to the national memorial at Ground Zero.
For more information about the Tunnel to Towers Foundation or to donate, visit T2T.org.
___
(c)2021 The Tribune-Democrat (Johnstown, Pa.)
McClatchy-Tribune News Service