Kan. fire officials: Too many 'band aid and aspirin' 911 calls
The Wichita Fire Department will test sending EMTs on "what some have called band aids and aspirin" medical calls, Mayor Jeff Longwell said
---
By Stan Finger
The Wichita Eagle
WICHITA, Kan. — Wichita residents could see a substantial shift in the way first responders handle thousands of medical calls to 911 each year.
Early next year, the Wichita Fire Department will test sending emergency medical technicians on "what some have called band aids and aspirin" medical calls, Mayor Jeff Longwell said at a recent City Council meeting.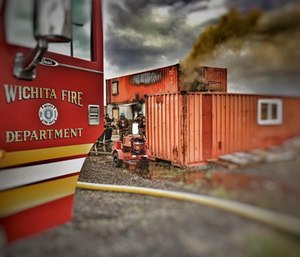 The fire department gets about 18,000 of those calls a year, Deputy Fire Chief Brad Crisp said.
Almost all of the city's firefighters have medical training, and the fire department responds to all medical calls. When a call comes in, the department sends whatever closest truck is available.
"When we send a squad or an engine or an aerial platform out on one of those calls and another call comes out that could actually be an emergency — that is concerning to us, because that unit isn't available to address the emergency," Crisp said.
If no other trucks at the closest station to the second call are available, trucks from a farther station have to then be sent.
The number of times that happens is "staggering," he said.
A study in 2016 revealed that about 15 percent of the time trucks had to come from other stations to cover calls while fire crews were handling incidents that were not severe.
"It's something we need to address," Crisp said. "It happens more often than we would like for it to happen.
"We're exploring ways we could still address those calls" that aren't critical, he said. "Could we go to them in a different way?"
EMTs are trained and certified to administer basic emergency services such as first aid and CPR. Ambulances are sent when a 911 dispatcher determines an incident is serious enough to warrant one.
The EMT units will be deployed in six stations around Wichita's core area next spring, Crisp said, though details on what types of vehicles they'll use have not yet been worked out.
Research has shown that most of the minor calls happen in the downtown area, bordered generally by Harry to 13th Street and from Hillside west to McLean.
"We're looking for smarter ways, more efficient ways, more cost-effective ways to respond to those (non-emergency) calls," Crisp said.
People call 911 because they sprained their ankle or something in their knee popped or they have developed a bloody nose, he said.
Or first responders are asked to check on a man lying on the ground or on a park bench — and he is simply taking a nap.
The pattern is a reflection of society, Crisp said.
"People are using 911 as their primary care physician," he said. "We've done a really great job of teaching people to call 911 when they have an emergency, but I think the pendulum has swung a little too far."
Matt Schulte, president of the local firefighters union, said he has concerns about hiring EMTs to send out on emergency calls rather than firefighters — and not just because it could potentially eliminate positions.
"It's also impacting the service to the citizens," Schulte said. "They're paying for a service, and they're getting the best service from the fire department today. To change that out, I'm not sure what's up with that."
Most Wichita firefighters are certified as EMTs, Crisp said. About a dozen are advanced EMTs and another dozen are paramedics, who receive advanced medical training that allows them to start intravenous transfusions and administer drugs.
Medical calls make up nearly 80 percent of the fire department's call load, Crisp said. House and building fires and other calls such as serious traffic accidents make up the rest.
What fire department officials term high-risk calls account for about 20 percent of the department's call load, Crisp said. Officials want to have firefighters and their equipment available to respond quickly to those calls as often as possible.
"There's a different cost to sending a big firetruck out the door" rather than a squad truck, Crisp said, pointing to fuel costs and the wear-and-tear on the trucks.
"It's not so much that we're trying to save money as it is we're trying to improve service reliability," he said.
Even if EMTs become part of the mix, firefighters would still go to serious medical calls, Crisp said. Dispatchers are asking more questions of callers to get a better sense of how serious a medical call is.
"We're just trying to take the" less serious "calls off the back of our firefighters," he said.
Copyright 2018 The Wichita Eagle