Operation Adopt A Soldier building destroyed by fire
The fire damaged the inside of the building, including more than 260 packages that were ready to be mailed to U.S. troops
---
WILTON, N.Y. — A Saturday afternoon fire destroyed a building that housed a family of four as well as a not-for-profit that collects donations to send to U.S. soldiers overseas.
The organizers at Operation Adopt A Soldier, 4281 Route 50, said the fire started in the building's utility room; the building also has another business and an apartment in it.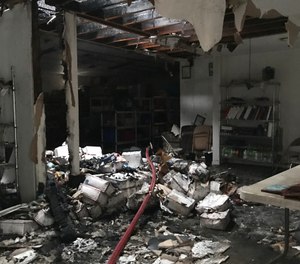 "We basically lost everything, it's a total loss," said the organization's director Cliff Seguin on Sunday.
The fire damaged the inside of the building — including more than 260 packages that were ready to be mailed to U.S. troops, the non-profit said in a news release it posted on its website.
Seguin said the fire happened just weeks before the nonprofit's busiest time of the year, where it ramps up collections to ensure military personnel get packages for the holidays.
Firefighters were able to save two American flags that had signatures of military personnel on them.
An exact cause of the fire was unclear Sunday.
The fire also destroyed the home of a family that has a 19-year-old with cerebral palsy.
On Sunday afternoon, Jose and Abigail Gonzalez picked through what was left of their apartment and helped seal off the roof and windows. They had dropped off their daughter, Natalie Piro, just hours before at camp and were outside with their 2-year-old son when the fire started, Abigail Gonzalez said.
"We were transplanting that cactus," she said. "And when we looked back, there were flames."
The family tried to fight the fire with a fire extinguisher but it didn't work and they could only watch the flames until fire crews arrived. The landlord had renovated the building just six months earlier, including adding a third bedroom for their son.
The Gonzalez's said their main concern was finding a place to stay that will accommodate Natalie's wheelchair before she comes home on Wednesday.
Operation Adopt A Soldier is accepting donations at any Saratoga National Bank or Glens Falls National Bank branch, and also has a Gofundme page for donations.
Operation Adopt A Soldier officials said in 2015 it sent packages to more than 500 troops serving overseas.  Letters, snacks and games are mailed at least once a month to every soldier, sailor, airmen or marine on their list.
The organization is run entirely on volunteer time and donations.
To learn more go to Operation Adopt A Soldier's website.
———
©2019 the Times Union (Albany, N.Y.)
McClatchy-Tribune News Service