Video: Texas firefighter suits up again months after crash, amputation
"My biggest concern was never being able to be on the fire truck again," said Colton Adams, a Centerville volunteer firefighter
---
By Leila Merrill
FireRescue1/EMS1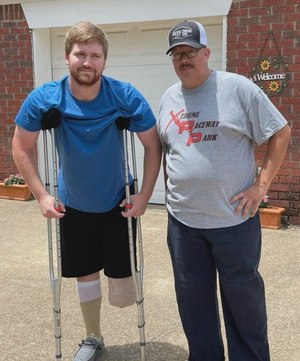 CENTERVILLE, Texas — Earlier this month, Colton Adams, a Centerville volunteer firefighter, suited up in full firefighter gear, air tank and all, for the first time since he underwent a leg amputation after being struck by an 18-wheeler in June.
Adams and fellow firefighter Clint Franklin were injured while responding to an earlier crash scene. 
Adams continues his rehabilitation and has been on light duty and has driven the station's apparatus, KBTX reported. 
He wants to serve as an example of perseverance and a reminder to the public to slow down and move over when first responders are on roadways.
"My biggest concern was never being able to be on the fire truck again," Adams said. "Ever since that first night in the hospital I turned, I looked at my brother and I said, all right we're going to beat this."