'Santa' banned from fire truck
Due to safety concerns, a fire department is not allowing the Clauses to ride on their truck during a parade
---
HAMPTON, N.H. — A NH fire chief barred actors portraying Santa Claus and Mrs. Claus from riding on a ladder truck due to safety violations.
The Hampton Christmas Parade, which took place Saturday afternoon, usually features the couple atop a Hampton Fire Department ladder truck. However, Deputy Chief Jamie Ayotte said that allowing the Clauses to do so violates NFPA guidelines and their department's safety regulations.
Several people were upset by the department's decision, according to the Hampton-North Hampton Patch.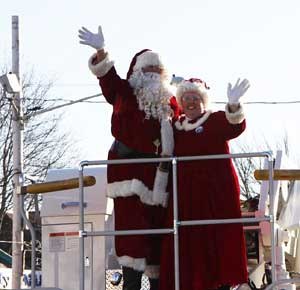 "I'm a little peeved," retired Fire Captain Rusty Bridle said. Bridle is in charge of the parade and said it's a shame that the tradition of the Clauses won't be upheld, even though they were allowed to ride on the ladder truck last year.
This year, Bridle said another department will allow the Clauses to ride in on their fire truck, much to the support of other town residents.
Chief Ayotte said he did not want to stir any controversy, but said that firefighters and actors in the past have died after falling from fire trucks during parades.