Utah fire vehicle catches fire in bay
Firefighters say the fire at Zion National Park's Emergency Operations Center caused limited damage thanks to the building's fire suppression system
---
By Laura French
ST. GEORGE, Utah — A wildlands fire vehicle at a national park in Utah caught fire while parked in its bay Wednesday night. 
Firefighters evacuated the building before extinguishing the blaze at Zion National Park's Emergency Operations Center, limiting most of the damage to the bay, according to Cedar City News.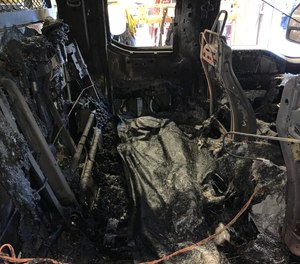 Firefighters credited the building's suppression system with helping to limit the damage, and also thanked mutual aid agencies for their assistance. Officials said the vehicle, worth about $130,000, was destroyed but that the loss will not hamper ongoing firefighting efforts. 
The blaze is believed to have been started due to an electrical short in the vehicle, according to Zion National Park Superintendant Jeff Bradybaugh. 
Bradybaugh added that firefighters' training paid off in preventing injuries, as they were able to safely evacuate and evaluate the situation before beginning to fight the blaze.