Video: Ill. fire truck bursts into flames on highway
The three firefighters present attempted to extinguish the blaze while they called 911 to respond, but were unsuccessful
---
By Robert Connelly
The Register-Mail
KNOXVILLE, Ill. — A Normal Fire Department truck was burned up in a highway blaze Wednesday morning.
Knoxville Fire Protection District Chief Jeff Vandemark said fire crews were called out to a fire truck blaze at about 10 a.m. Wednesday on eastbound Interstate 74 near mile marker 59.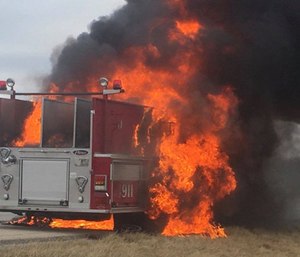 A firefighter from the Normal Fire Department was driving the reserve truck from Alexis Fire Equipment back to Normal, followed by a vehicle driven by another Normal firefighter. Normal Assistant Fire Chief Doug Barnett told The Register-Mail the firefighter saw smoke coming from the rear of the vehicle and pulled over.
The three Normal firefighters present attempted to extinguish the blaze while they called 911 to respond, but were unsuccessful. It appeared most of the cab was intact, but much of the rest of the truck was claimed by the fire.
"Looked like it may have started near one of the rear wheels, so maybe a brake or tire issue," Barnett said.
He further said the 2004 fire engine had framework repairs before going to Alexis to have its firefighting equipment reinstalled.
"It's 14 years old. Not a huge dollar loss, but we're going to miss it," Barnett said.
No one was injured in the fire and Normal had insurance on the vehicle. It was towed back to Alexis Fire Equipment to wait for the insurance company and so it could be secured.
Vandemark said crews cleared the area at 12:30 p.m. Wednesday.
Copyright 2018 The Register-Mail
 

Posted by Andy Bush on Wednesday, January 24, 2018