'We are in a crisis': Pittsburgh struggles with broken fire apparatus, ambulances
Union President Tim Leech said there was an 8-day stretch when the Bloomfield neighborhood firehouse had no fire engine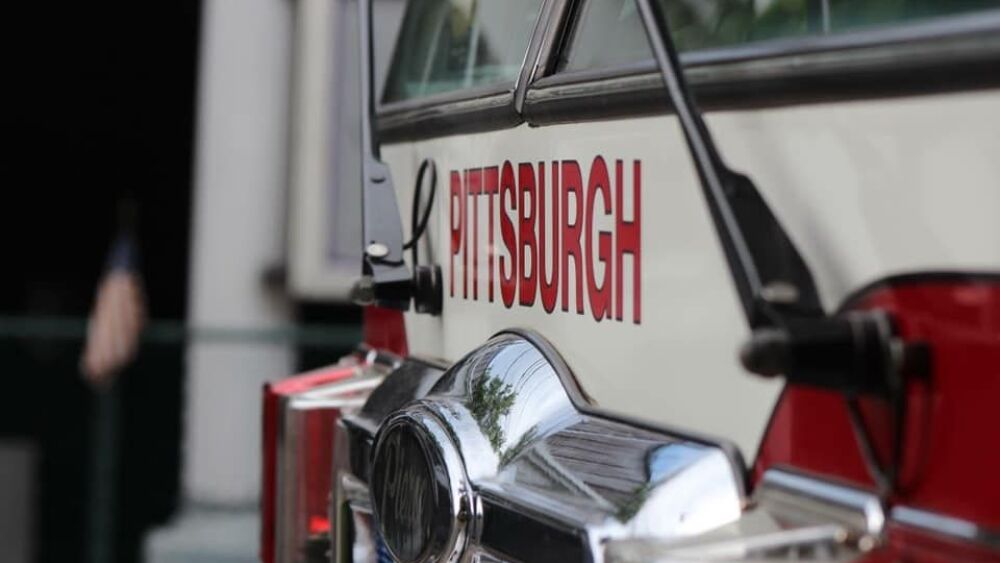 By Julia Felton
The Tribune-Review
PITTSBURGH — Pittsburgh's public safety and public works vehicle fleets are in "dire straits," officials said during a meeting Tuesday.
"We're duct-taping and bubble-gumming things together," Public Safety Director Lee Schmidt said. "We're not providing the level of services we normally should be providing."
Officials said the city's aging vehicle fleets often see multiple vehicles out of service at one time, leaving police, fire and EMS personnel scrambling to make do with limited resources and forcing vehicles to respond to emergencies from further distances.
Tim Leech, the vice president of the firefighters union, said there were at least three instances in recent months when fire engines have been out of service and there was no fire engine at a firehouse. In one example, he said, there was an eight-day stretch this spring when the Bloomfield firehouse had no fire engine.
"We are in a crisis," he said.
Even if officials act now, there's still a long wait to get the needed vehicles, Assistant Fire Chief Brian Kokkila said. A ladder truck takes about four years to come in after it's ordered, he said, and other specialty vehicles for the fire department take between two and four years.
The existing fleet, he said, is becoming increasingly expensive to maintain as more issues arise with aging vehicles.
"There are times when we're investing money to repair vehicles that are well beyond their expected lifespan," he said.
It's also difficult and sometimes time-consuming to find parts to repair older equipment, Kokkila said.
About 75% of frontline vehicles in the city's EMS bureau have over 100,000 miles, EMS Chief Amera Gilchrist said.
The city has seen ambulances break down en route to the hospital with patients inside, she said.
"I think that's unacceptable," Gilchrist said. "We need vehicles."
Many police patrol units, which typically would be taken off of patrol after reaching 100,000 miles, now have over 150,000 miles, Assistant Police Chief Phillip Carey said.
"We're in dire straits for vehicles," he said, adding that the police bureau hasn't gotten new vehicles since 2020.
"These are emergency vehicles," Schmidt said. "We don't want them to break down."
The Department of Public Works is facing similar challenges, Director Chris Hornstein said. The average accepted age for a vehicle in the department's fleet is 10 years, he said, explaining that after that, "the money you put into the vehicle tends to outweigh its value."
A healthy fleet, he said, should have an average age of between five and six years. The Department of Public Works fleet is closer to 10 years old on average, he said. The refuse fleet, in particular, has 86 vehicles with an average age of nearly 14 years. The streets division, which includes snowplows, has 132 vehicles, which are, on average, nearly 10 years old.
Ten percent of the streets division vehicles are currently in long-term parking awaiting maintenance, Hornstein said, limiting the amount of work the department can do.
Councilman Anthony Coghill, D-Beechview, who chaired Tuesday's meeting and sits on the city's Equipment Leasing Authority Board, said public safety and public works officials requested about $24 million in new vehicles in the 2023 budget. The city budgeted about $6.4 million.
"It's going to be expensive, very expensive, but we can't ignore it," Coghill said, adding that he would support pulling money from American Rescue Plan Act projects or other areas to fully fund the effort to get the city's fleet back up to par.
The problem, he said, has been years in the making.
"This is not recent to this administration," he said. "It goes back years."
Officials said the only way to remedy the issue is to dedicate consistent annual funding to vehicle purchases.
"Public safety vehicles and public works vehicles all work in conjunction together to keep the city safe," Schmidt said. "We need to make sure we're maintaining our vehicles and we have a plan that is consistent and spread across the board."
(c)2023 The Tribune-Review (Greensburg, Pa.)
Visit The Tribune-Review (Greensburg, Pa.) at www.triblive.com
Distributed by Tribune Content Agency, LLC.