Ex-volunteer firefighter accused of vandalizing fire dept. vehicles
Battalion Chief Ron Roysum said a woman with an aluminum bat was whacking two vehicles, smashing windows, mirrors and lights and puncturing all the tires
---
By Randi Rossman
The Press Democrat
HOPLAND, Calif. — It was the banging about 7:30 a.m. Sunday that caught the on-duty engineer's attention and drew him to a rear window of the Hopland fire station on Feliz Creek Road.
Outside, a woman with an aluminum bat was whacking two vehicles in the parking lot, smashing windows, mirrors and lights and puncturing all the tires.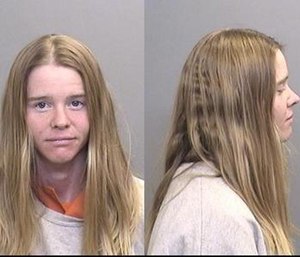 Battalion Chief Ron Roysum, who watched a video of the incident, said the woman then got into her vehicle, drove to the front of the station and shattered two windows of the station's training room before fleeing.
Rachael Seivertson, 29, a former Hopland volunteer firefighter, was arrested late Sunday afternoon by Mendocino County sheriff's deputies, suspected of felony vandalism, assault on a deputy, evading arrest and violating her probation. Monday she remained in custody, held without bail.
It's been about eight years since Seivertson volunteered in Hopland. Fire officials Monday praised her efforts and abilities, saying they knew of no issues between her and the department. After leaving Hopland she'd worked a couple seasons for Cal Fire but left the state agency about six years ago, officials said.
"We're all still in shock. We don't know what set her off," Hopland Fire Chief Mitch Franklin said. "It's devastating what she did to our fire house and our vehicles. We use them all the time. It's a huge hit for us."
The Hopland vandalism is the second such crime in days. Law officials also are investigating a similar case from last week at the Cal Fire Hopland station. Two personal vehicles belonging to firefighters had smashed windows and slashed tires, according to Cal Fire.
"We're unsure if it's related, except it's the same 'mo,'" Franklin said.
Fire officials said Seiverstson's assault was seen by at least three people and caught on surveillance video.
In addition to the engineer, two people at a nearby gas station who walked over to see what was happening saw Seiverston, Franklin said. Deputies were called and Franklin also responded, arriving to see the woman driving away. He followed her for miles out Feliz Creek Road to a house where he was joined by several deputies.
The woman ran from the house, heading down a creek bed before racing up steep hillsides, Franklin said. Five deputies, three Hopland firefighters and a Cal Fire firefighter chased after her for a few hours, unsuccessfully searching the area.
"She gave us all a good run," Franklin said.
Hours later, deputies learned the woman was back at the house where she'd reportedly barricaded herself in the attic, according to the chief, who said she'd swung at a deputy with a crow bar during her arrest.
Hopland now needs to find at least $20,000 in replacement costs for the damaged parts of the Dodge Ram and Ford Expedition, the chief said, but that would be much higher if the vehicles need replacing.
Roysum said the department was "cash-strapped" and would have to use money slated for training and gear for truck repairs instead.
Firefighters still can respond to calls with department fire engines. But the trucks, which carry a variety of equipment, typically are used by volunteers not yet trained to drive fire engines. First arriving volunteers head out on the engines and others come to the station for gear and take the utility trucks.
Without them, volunteers have to use their own vehicles for calls.
Hopland has 14 volunteers and two paid firefighters, including the chief. In 2017 the department ran 330 calls and sent an engine on numerous strike teams totaling 65 days out of their jurisdiction.
"It's not just a shot to us, but the entire community," Roysum said. "We're a volunteer department and we're what the community needs to take care of fire safety."
Copyright 2018 The Press Democrat