Fla. firefighter accused of murder, racketeering
Federal officials said that Cody Wesling was part of a "criminal organization whose members engaged in narcotics distribution and acts of violence
---
By John Chambliss
The Ledger
POLK COUNTY, Fla. — Cody James Wesling had worked as a Polk County firefighter for nearly a year when the federal indictment was handed down in May.
The charges were jarring.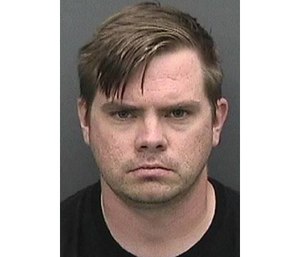 The indictment by the U.S. Attorney's Office accused Wesling, 27, of murder, racketeering, use of a firearm during a crime and numerous drug charges while he was a member of the 69ers Motorcycle Club gang.
Wesling, who went by "Little Savage" according to the indictment, was one of five indicted in the Middle District of Florida in Tampa. His attorney is Assistant Public Defender Don Todd Doss. Doss does not discuss open cases with the media, said a woman who answered the phone at the public defender's office.
Christopher Brian Cosimano, 30, of Gibsonton; Michael Dominick Mencher, 51, of Tarpon Springs; Allan Burt Guinto, 27, of Brandon; and Erick Richard Robinson, 45, of Zephyrhills, also face similar charges.
The indictment states that Wesling and the others were part of a "criminal organization whose members and associates engaged in narcotics distribution and acts of violence including acts involving murder."
The five are accused of killing Paul Anderson, 44, president of the Cross Bayou chapter of the Outlaws. Anderson was shot and killed Dec. 21 at an intersection while he was in his truck.
The Tampa Bay Times reported that Pasco Sheriff Chris Nocco said at the time of the shooting that tensions between the rival Outlaws and 69ers had become inflamed.
Deputy County Manager Joe Halman said Wesling, of Riverview, had worked part time for the department from March 2017 until he was hired full time in June 2017.
Officials from Polk County Fire and Rescue went to Wesling's first appearance in federal court after they received notice from the federal bureau of Alcohol, Tobacco and Firearms. Wesling was fired after the first appearance hearing.
Halman said the charges were a shock.
"Absolutely no issues or any idea he was involved in criminal activity," Halman said.
Halman said Wesling, a firefighter/emergency medical technician, was stationed at one of the Lake Wales stations during his short career with the county. He was paid a yearly salary of $39,457.
Mianne Nelson, a spokeswoman with the county, said there were no red flags in the criminal background check.
"There weren't any criminal charges or even any traffic tickets," she said.
According to records, Wesling attended Leary Tech/Tampa Fire Academy.
Wesling was held in the Hillsborough County Jail after he was arrested. Now in federal custody, Wesling faces up to life in prison.
Copyright 2018 The Ledger