Ill. firefighter indicted on federal child pornography charges
Kyle Daniel DuPrey, 36, resigned from the East Moline Fire Department prior to his arrest this week after charges were unsealed
---
By Thomas Geyer
Quad City Times, Davenport, Iowa
EAST MOLINE, Ill. — Federal child pornography charges have been filed against a former East Moline Firefighter who was arrested by Scott County Sheriff's investigators in November on similar charges.
According to U.S. District Court, Davenport, electronic records, Kyle Daniel DuPrey, 36, of LeClaire, was indicted Jan. 11 by a federal grand jury on two counts of distribution and receipt of child pornography.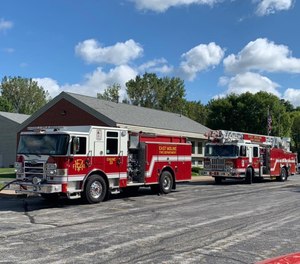 DuPrey faces a mandatory minimum sentence of five years in prison, and a maximum of 20 years in prison, on each of the charges if he is convicted.
The federal case against DuPrey was unsealed Wednesday and DuPrey was arrested.
During a detention hearing, DuPrey was allowed to be released on bond pending trial.
Federal Magistrate Stephen Jackson Jr. scheduled a jury trial for Feb. 27 in U.S. District Court, Davenport.
East Moline Fire Chief Robert DeFrance said that DuPrey resigned his position with the East Moline Fire Department on Wednesday. DuPrey had previously been on administrative leave.
According to Scott County District Court electronic records, the three charges of sexual exploitation of a minor filed against DuPrey in November are still pending. A trial date has been set for March 6 in that case. A pretrial conference is scheduled for Feb. 24.
Scott County Sheriff's deputies arrested DuPrey on Nov. 21. Sexual exploitation of a minor is a Class D felony under Iowa law that carries a prison sentence of five years.
According to arrest affidavits filed by Scott County Sheriff's Investigator Ethan Roling, at 2:59 p.m. Aug. 22, 2021, DuPrey disseminated a video depicting an underage female engaged in a sexual act.
At 10:53 a.m. and at 1:54 p.m. on May 4 of this year, DuPrey disseminated two videos showing underage females engaged in sexual acts.
The videos were sent through Kik Messenger.
A cyber-tip from the National Center for Missing and Exploited Children led to the investigation.
___
(c)2023 Quad City Times, Davenport, Iowa
This article was updated to reflect an Illinois dateline; an earlier version incorrectly stated Iowa. 
McClatchy-Tribune News Service