33 dead, dozens injured in possible arson at Japanese anime studio
A 41-year-old man has been taken into custody and told police he had scattered "fluid-like petrol" at the site
---
TOKYO — Thirty-three people have been confirmed dead after a man stormed into an animation production studio in the western Japanese city of Kyoto, screaming "Die!" and setting it on fire, authorities said.
Thirty-six people were also injured and about 10 of them were in critical condition, according to local authorities.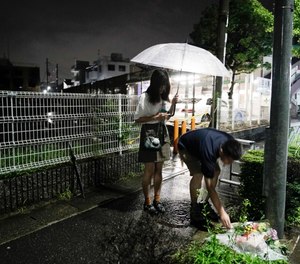 The 41-year-old man has been taken into custody and told police he had scattered "fluid-like petrol" at the site, Kyodo News agency reported, citing local authorities.
The man was being treated in hospital for burns on his face and chest.
Firefighters found many bodies on the second floor of the three-storey studio of Kyoto Animation, where about 70 people were believed to have been working when the fire broke out Thursday morning.
The fire started "at the core of the company," Kyoto Animation president Hideaki Hatta told reporters. "This may be a pompous way of saying, but even if one person who will lead Japan's animation industry was hurt, it is absolutely unbearable."
Hatta added the company had often received threatening emails.
Kyoto Animation is known for producing popular TV animation series including "K-On!" and "The Melancholy of Haruhi Suzumiya."
Residents near the company told Kyodo they had heard a series of explosions and saw black smoke billowing out of the building.
"I heard a bang," a man was quoted by Kyodo as saying. "The black smoke rose and the burning smell was awful."
Firefighters managed to put out the blaze around 3:20 pm, about five hours after it broke out.
"Many people have been dead in an arson-murder case in Kyoto today," Prime Minister Shinzo Abe tweeted.
The incident was "too appalling for words. I offer my condolences to the victims," the premier added.
The death toll was the highest to result from arson in decades in the country.
———
©2019 Deutsche Presse-Agentur GmbH (Hamburg, Germany)
McClatchy-Tribune News Service