Mich. FFs prepare for patrol to prevent arsons on night before Halloween
Saginaw firefighters, police and a volunteer "Arson Watch" team patrol the city each year on Oct. 30, which has historically been a day of increased arsons in the city
---
Cole Waterman
mlive.com
SAGINAW, Mich. — With Halloween and its prelude Devil's Night creeping around the corner, Saginaw police, firefighters, and volunteers are making their presence known to keep a lid on crime.
Rechristened locally as "Angels' Night," Oct. 30 has been regarded as a night of mischief since the 1940s. The night gained more notoriety in Detroit in the 1970s, when the vandalism often included arson.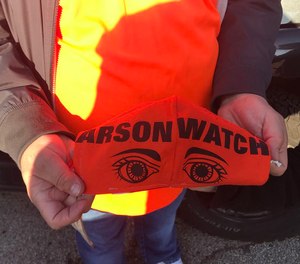 A decade and a half ago, Saginaw was a hotbed of arsons on or near the date, though the numbers have steadily declined since then. Between 8 a.m. on Oct. 30 and 8 a.m. on Nov. 1, the city saw 17 arsons in 2006, nine in 2007, and eight in 2008. For the last handful of years, though, there have been no reported arsons in the city in that two-day span.
"Since 2015, there's been zero arson fires during that period," said Saginaw Fire Chief Chris VanLoo. "We're a little superstitious about touting that too much. It's a great stat, but we don't want people getting the wrong idea and making a change."
To keep the arson rate at zero, officials and volunteers are remaining vigilant and undeterred by the ongoing COVID-19 pandemic.
"We're going to have the volunteers and do it COVID-responsibly," said Saginaw Police Detective Sgt. Matthew Gerow. He explained that in prior years, volunteers and officers would meet at pit stops for food and refreshments, which is not happening this year.
"We've amped up patrols for that night," Gerow said. "We've had success over the past couple of years, with zero fires. We don't expect any problems."
Michigan State Police troopers will likewise be adding extra patrols along Saginaw's streets the nights of both Friday and Saturday, added Lt. Lizabeth Rich.
The community group Arson Watch is organizing volunteers, with those interested in participating urged to visit the central meet-up site at the base of the Holland Avenue bridge, on the east side of the river near the intersection of East Remington and South Water streets. Prior years saw three staging locations where food, refreshments, and items were distributed.
"We decided last month … to not let COVID-19 deter us from what we've done in the past," said Arvid Ernstsons, spokesman for Arson Watch. "It's going to a put a hold on a few things, but we're going to still be out, and still be out in force. We're not going to have refreshments, and the less we do with food, the better off we're going to be. We're not going to let COVID sideline us."
At the central staging location, volunteers will receive orange flashing lights for their vehicles and magnetic signs to affix to the vehicles' exteriors. Arson Watch is setting up at the site at 4:30 p.m. Friday, Oct. 30, with patrols to take place that night and the next, Ernstsons said.
"All we are, we're eyes and ears," he said. "We call 911 if we see something suspicious. Even if people are not out driving around, they can open up their window blinds and keep an eye on their neighborhood. Even people at home can still help by turning on their porch lights and being aware of what's going on in your neighborhood."
Ernstsons said he's expecting about 40 vehicles on Friday night and probably 30 on Saturday night. He added that the sense of community extends beyond those who live in the city proper.
"It's not just the citizens of Saginaw who are out there; we also have volunteers from the townships," he said. "It's a great thing. We don't want to stop it because of the pandemic."
Fire Chief VanLoo lauded volunteers' efforts and their effect in reducing arsons.
"Absolutely it's the volunteers that are out there making a presence," he said. "I always give them full credit. They're out there on those nights, patrolling their neighborhoods. It's a great story, how they've taken things back."
As of Oct. 27, the Saginaw Police Department has had eight arson complaints so far in 2020. The department handled 20 arson complaints in 2019, 11 in 2018, 19 in 2017, 26 in 2016, 48 in 2015, and 14 in 2014, according to the FBI's Uniform Crime Report.
Gerow credited the decline of Angels' Night arsons to the reduction of abandoned structures in the city.
"There's not too much more of (those properties) anymore, because of the good job ( Saginaw Chief Inspector) John Stemple and SCENIC have done in tearing down those blighted buildings and houses over the years," Gerow said.
SCENIC stands for Saginaw Code Enforcement Neighborhood Improvement Cooperative, which over the years has received grant funding to demolish abandoned buildings.
"Honestly, that's what was burning was abandoned buildings and houses," Gerow said. "Not all credit should go to the fire department and the police department, but to SCENIC. With Devil's Night, people have the urge to go out and do stuff, but if there's not a venue for them to it, it takes it away. The credit can go to SCENIC, the fire department, the police department, and Arson Watch."
Officials and citizens are optimistic recent years' trends of no late-October arsons will continue.
"We're hoping for zero again," said Ernstsons.
___
(c)2020 MLive.com, Walker, Mich.
McClatchy-Tribune News Service