Murder charge filed in 1987 LODD of Wash. firefighter
Elmer Nash Jr., 47, was 12 years old when he allegedly set the fire that killed Everett Firefighter Gary Parks
---
By Laura French
EVERETT, Wash. — Prosecutors filed first-degree murder charges Wednesday against the man accused of setting the fire that killed Everett Firefighter Gary Parks in 1987. 
Elmer Nash Jr., 47, was 12 years old when he allegedly started the three-alarm blaze at the Everett Community College library on Feb. 16, 1987, according to KOMO News. While battling the fire, Parks became separated from other firefighters and then became trapped, ultimately dying due to smoke inhalation.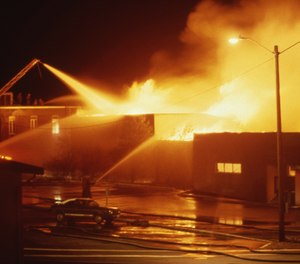 Nash became a suspect in the case after a new detective took over the investigation in 2016. Nash reportedly confessed to investigators that he set the fire to cover his tracks after breaking into the library with two other boys, but later recanted the confession. 
The investigation was reopened by the ATF in 2020 and new fire science technology was used to examine the evidence. This new investigation led to Nash being charged with first-degree murder this week. 
Nash pleaded guilty during an arraignment on Thursday. Prosecutors said Nash has a long history of criminal convictions including four felonies and 10 misdemeanors as a juvenile and 14 felonies and 58 misdemeanors as an adult. 
"After 34 years, the City of Everett will finally see someone held accountable for the loss of our Firefighter Gary Parks, who died in the service of our community," Everett Mayor Cassie Franklin said in a statement. "I commend our city teams for working tirelessly to crack the case and continue towards resolution in this tragic event." 
In 1988, Everett Community College built the Gary Parks Student Union Building and a new library at the site of the blaze, and a permanent memorial to Parks was installed to the north of the building. 
"The generation of Everett Firefighters who worked with Gary have retired, but the memory of his loss is woven into the culture of the Everett Fire Deaprtment. All Everett Firefighters, active and retired, are thankful for the progress in this case," Everett Fire Chief Dave DeMarco said in a statement. "Our thoughts are with his family today. We are also profoundly thankful to our brothers and sisters in law enforcement for the tenacity and dedication to investigate this case."