Woman charged with arson in fire that killed 2 Del. firefighters
Beatriz Fana-Ruiza, 27, was arrested on charges of first-degree arson and seven counts of first-degree reckless endangering
---
Middletown Transcript
WILMINGTON, Del. — A 27-year-old woman has been charged with arson and murder for allegedly setting the house fire in which two Wilmington firefighters died and four others were injured.
The fire occurred Sept. 24 shortly before 3 a.m. in the 1900 block of Lakeview Road, Canby Park.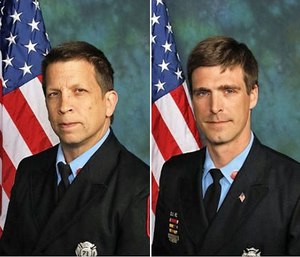 Today, the Delaware Office of the State Fire Marshal announced the arrest of Beatriz Fana-Ruiza, a resident of the home, on charges of first-degree arson and seven counts of first-degree reckless endangering, said Assistant State Fire Marshal Michael G. Chionchio.
The Wilmington Police Department also filed additional charges against Fana-Ruiz, Chionchio said.
According to Wilmington Fire Department Battalion Chief James R. Jobes, those additional charges include two counts of first-degree murder and four counts of second-degree assault.
Wilmington Mayor Dennis P. Williams and Fire Chief Anthony Goode would like to thank the following agencies for their hard work and persistence in this case: The Delaware State Fire Marshal's Office, Alcohol Tobacco and Firearms, Wilmington Fire Marshal's Office, Wilmington Police Department, Delaware Attorney General's Office, and all other agencies that assisted.
The investigation is continuing as members of the Bureau of Alcohol, Tobacco, Firearms, and Explosives, Wilmington Police Department, and Office of the State Fire Marshal staff work on the case, Chionchio said.
Copyright 2016 Middletown Transcript
All Rights Reserved