FF shot by pellet gun, engine windows smashed during Houston storage unit fire
The firefighter was taken to the hospital for evaluation after being shot in the back with the pellet gun
---
By Laura French
HOUSTON — A Houston firefighter was injured after being shot by a pellet gun during a storage unit fire on Friday, police say. 
Firefighters responded to the scene of the fire Friday morning and found two people inside the storage unit, according to KHOU. According to police, one of the people broke the windows of the responding engine, and a woman fired a pellet gun, striking a firefighter in the back.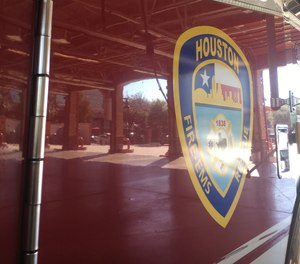 It is unclear if the person who broke the windows is the same person who fired the pellet gun. ABC 13 reports that one suspect was arrested. Police said the incident does not appear to be related to the fatal shooting of Houston Fire Investigator Lemuel Bruce, which occurred earlier on the same day. 
The firefighter who was struck was transported to the hospital for evaluation. He was later released and returned to duty. 
Firefighters managed to extinguish the fire with a pump can. The incident is being investigated by the Houston Police Department.