Paramedic creates non-profit organization to donate ballistic vests to responders
Matthew Brabham started Arming Angels in the hopes of equipping as many responders as possible with ballistic vests and active shooter kits
---
By FireRescue1 Staff
ORLANDO, Fla. — A paramedic is on a mission to equip as many first responders as he can with ballistic vests and active shooter kits.
Paramedic Matthew Brabham said that since firefighters and EMS providers are being assaulted more frequently, they need to be prepared with the right equipment for the situation.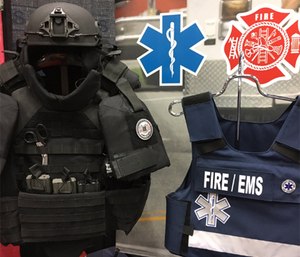 "When I first got into EMS, I was called out for a gunshot wound. The patient was OK. As we were moving the patient to the ambulance, two gunshots rang out behind our patient's house," Brabham said. "However, it felt like the gunshots were right on top of us. While many ran for cover, I stayed with the patient and it was in that very moment when I realized just how exposed and vulnerable we as first responders truly are."
Brabham's understanding prompted him to create the non-profit organization Arming Angels to ensure that all responders have the proper equipment just like police officers.
"We have families to go home to. We have loved ones who pray for our safety every time we leave for work. Our safety wouldn't be nearly as compromised if we only had gear to help protect us instead of being completely exposed and vulnerable as we are now," Brabham said.
Since the organization's creation, Brabham has raised over $2,000. However, he was recently diagnosed with cancer and had to take a six-month break to undergo treatment.     
Brabham recently presented his first set of active shooter kits to Winter Garden Station 1 in Florida.
"This is just a start. We've raised enough money to purchase three Level IV ballistic plates, plate carrier vests and three ballistic helmets. But we are committed to raising more funds," Brabham said.
Brabham hopes to raise enough money to spread donations across the U.S.