Party to celebrate rookie's 1st fire ends in 3 firefighters' arrests
Two of the Michigan City, Indiana firefighters allegedly beat another firefighter who was accused of making an obscene video
---
Bob Kasarda
The Times, Munster, Ind.
MICHIGAN CITY, Ind. — A drinking party held last fall by local firefighters to celebrate a rookie's first fire wound up out of control with two members going to the hospital and allegations of a faux sexual assault, according to charging documents released Thursday.
Three firefighters have been charged: Darren Scott Kaletha, 51, faces felony counts of battery resulting in serious bodily injury and strangulation; Austin Swistek, 24, faces misdemeanor counts of obscene performance and battery; and Brad Kreighbaum, 42, faces felony battery resulting in serious bodily injury.
Police were called to Kaletha's house in the 100 block of Earl Road at 12:22 p.m. Nov. 5 for a report of an unconscious person, who turned out to be an off-duty firefighter, court document say. The firefighter, who fell from a chair and hit his head on the floor, was taken to the hospital.
Police then were called back out at 1:04 p.m. the same day and found Swistek with a bloody hand trying to open a car door, charges say. Police, who described Swistek as intoxicated and "very hard to understand," walked him back to the nearby party.
At 2:12 p.m., police were called to the local Franciscan Health hospital, where Swistek reported he had been battered at the party by Kaletha and Kreighbaum.
The incident was investigated by the Indiana State Police, which resulted in 53 pages of charging documents.
Citing interviews with several of the partygoers, the charging documents state that after the first firefighter was taken to the hospital, Swistek broke a beer bottle and cut his hand before fleeing the house and being brought back by police.
Kaletha, who later spoke to police with an attorney, said he tried to "neutralize" Swistek when he became out of control, court records show. When asked if there was fight between the two men, Kaletha said, "No, he was absolutely the aggressor to me."
Kaletha then told investigators that while embarrassing to share, he later learned that when he went to his bed after drinking cocktails to "sleep it off," Swistek came in, took his clothes off and pretended to carry out a sex act on him, police said. The incident was reportedly caught on video that was shared with Kaletha's wife and other partygoers.
"I directly asked Scott if he punched Austin because of the video," the investigator said. "Scott said he did not know about the video and he did not punch him due to the video."
Another firefighter at the party said he witnessed the alleged faux sexual assault, police said.
A female partygoer reportedly told police she saw "all out fighting" between Kaletha and Swistek.
Kaletha argued he was acting in self-defense when he struck and choked Swistek, police said.
He also reportedly said he saw Kreighbaum punch Swistek.
Kreighbaum declined to give an interview as part of the investigation, police said.
The fire chief and deputy at the time were relieved of their leadership roles by the mayor in the wake of the incident, but they remain on the department.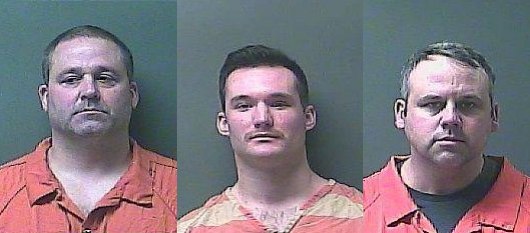 ___
(c)2021 The Times (Munster, Ind.)
McClatchy-Tribune News Service