W.Va. man allegedly bit firefighter during apartment fire
Police said the firefighter was providing assistance to deputies who were trying to arrest the man
---
By Laura French
ADRIAN, W.Va. — A West Virginia man is accused of biting a firefighter during a blaze at an apartment complex last week. 
According to the Buckhannon Police Department, officers who were at the scene of the May 6 fire saw Tylor Arbogast, 28, in the bed of a pickup truck fighting with pedestrians who were yelling for help, WBOY 12 reports.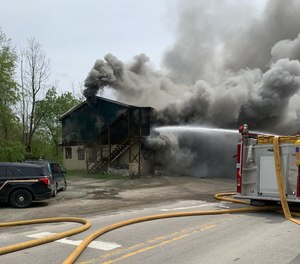 Arbogast then allegedly jumped onto the hood of the truck and smashed the front windshield and driver's side window with a large rock, Upshur County deputies said. 
Deputies attempted to take Arbogast into custody but he reportedly resisted arrest and then bit a firefighter who tried to assist the deputies, authorities said. According to a criminal complaint, Arbogast "continued to kick, headbutt and bite" as deputies tried to apprehend him, WBOY 12 reports. 
Arbogast is charged with obstructing an officer, assault and battery. 
An elderly woman was rescued from a balcony during the apartment fire that damaged 13 residences, according to WBOY 12. A pet died in the fire and no other injuries were reported. Officials say they believe the building may be a total loss. The cause of the fire remains under investigation.