Calif. firefighter awarded Medal of Valor
Alex Wallbrett was recognized for coming to the aid of a coworker who was stabbed by a bystander last year
---
By FireRescue1 Staff
SAN DIEGO — A firefighter received the state's Medal of Valor Monday for intervening in an assault on a colleague. 
Alex Wallbrett came to the aid of coworker Ben Vernon June 24, 2015. The crew was treating a sick and drunk man in downtown San Diego, when a bystander began to stab Vernon repeatedly. The wounds left Vernon with a punctured lung and other injuries.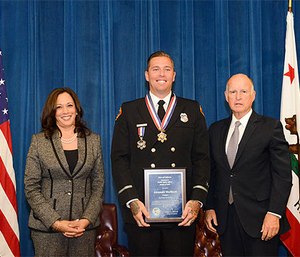 Wallbrett jumped a fence and placed himself between the attacker, 34-year-old Ryan Allen Jones, and Vernon. As a result of wrestling Jones, Wallbrett sustained several stab wounds, including one dangerously close to his spine. 
"Alex is truly one of San Diego's finest, and his selfless bravery saved the life of a fellow firefighter," Mayor Kevin Faulconer said during the ceremony, CBS 8 reported. "His actions prove that San Diego's first responders are second to none … Alex does all of San Diego proud in receiving this award."
Jones was convicted of attempted manslaughter and assault with a deadly weapon and sentenced to at least 23 years in prison.