Gordon Graham receives 2018 Howard W. Rayon Distinguished Service Award
Fire Services Training Institute honors Lexipol co-founder for his commitment and dedication to the fire service and public safety community
---
By FireRescue1 Staff
SACRAMENTO, Calif. — The Fire Services Training Institute honored Gordon Graham, co-founder of Lexipol, with the 2018 Howard W. Rayon Distinguished Service Award during a private ceremony in Sacramento on Sept. 7, 2019. The award recognized Graham for his commitment and dedication to the fire service and public safety community, according to FSTI.
Graham has been in law enforcement for 33 years and has practiced law in California. His experience has led him to be internationally recognized as a leader in risk management for both the public and private sector.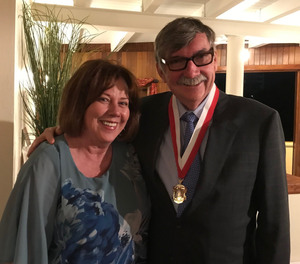 "As a friend to every firefighter, a noted author and lecturer, speaking on leadership and risk management, Gordon is well known for his 'predictable is preventable,' 'significant emotional events,' 'if you can think it, it can happen,' 'high-risk/low-frequency' and 'no time to think' lectures," shared Billy Goldfeder, deputy chief of the Loveland-Symmes Fire Department in Ohio and editorial advisory board member for FireRescue1, in a post from The Secret List newsletter. "Uniting facts, experience and humor together, Gordon has a unique and very successful way of conveying vitally important information."
Graham co-founded Lexipol (parent company of FireRescue1.com) in 2002 with Bruce Praet, both attorneys with extensive experience in risk management and public safety, who, due to demand, launched the Lexipol Fire Policy program in 2014, Goldfeder explained.  
Graham also co-created www.FireFighterCloseCalls.com alongside Goldfeder, who added that Graham is acknowledged as "the source for information specifically regarding firefighter survival, health and safety," and also helped guide the IAFC in the development of FirefighterNearMiss.com.
The first FSTI Distinguished Service Award, presented during opening ceremonies of the 2009 California State Firefighters' Association 87th Annual Conference in Sacramento, was awarded to Chief Howard W. Rayon. A resolution was presented naming the award in honor of his contributions, leadership, lifetime of achievements and dedication to the fire service. Rayon was a significant influence in developing FSTI and served as corporate secretary until his death on Oct. 19, 2009.
The first recipient of the award was Chief Paul Stein. Subsequent recipients include Ronny J. Coleman (2011), Bill Vandevort (2012) Thomas Forster (2013), Michael T. Metro (2014), Dr. Denis Onieal (2016) and Randy Bruegman (2017).