12 things your fire department should be paying for
It is sometimes difficult to know what equipment, training and miscellaneous expenses our agencies should cover
---
As fire service personnel, much is given to us. Many of us have solid equipment, are well paid with benefits, and have great working conditions. But every now and then, we are faced with a potential expense that leaves us wondering, "Should I have to pay for that?"
It can be difficult to draw the line between the financial responsibility of our agency – and what falls on us – and we sometimes find ourselves fighting for these expenses during negotiations.
With that in mind, I've developed a list of 12 things your agency should cover. This list will not be practical for all departments in all circumstances, but it's a good place to start when considering your personal situation and what your department expects of you, not only performance-wise but financially, too. Some items on the list may be considered a "stretch goal," but that just means it's time for us to start advocating to our unions, labor groups or supervisors.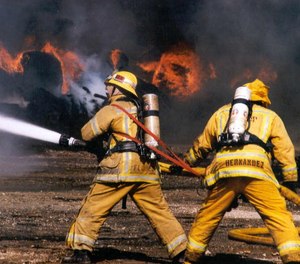 Here's what our agencies should pay for:
1. Uniform allowance: We are required to wear a departmental uniform. Annual uniform allowances are expected as well as payment for damaged uniforms while on duty.
2. Educational pay for required classes/certifications: Are you required certain education and certifications to promote? If so, your agency pays for these.
3. Cell phone, if required to have one: Are you required to be available if "the big one" hits? If so, you should be compensated for your phone. Note: It's also important to understand the expectations related to your agency paying for a phone that you may use for personal reasons as well.
4. Childcare if recalled to work: Let's say you are a dual-income family. You have been called back to work for a shift. Your significant other is at work and you have the daycare duty. Your department should pay for childcare in these situations.
5. Conference travel: You're part of the department's apparatus committee. You want to attend a fire conference and scope out many of the apparatus manufactures in attendance. If you're assigned to the committee, your agency should pay for this.
6. Meals when forced for overtime: You're just starting your four days off, but a major wildland incident keeps you at work. Your agency should reimburse your meals while being forced back to work.
7. Software and specialized programs your job requires: You're a specialist in designing department logos and public education pieces for your community. Due to a couple of busy shifts, you were unable to design these while on duty, but you're expected to have them ready for an upcoming program. You'll have to finish them at home, but you need special programs and software to complete them. Your department should pay for you to have such programs on your home computer.
8. Membership dues for professional organizations you are asked you to join:  You're recently promoted to a 40-hour training captain position. This requires you to join the county and state training officer's association. Your department should pay for your memberships that require specific organizations.
9. Your internet service provider bill, if you are expected to work from home: If you spend more time on the computer at home for work than personal use, then your department should pay for this.
10. Bilingual pay or language lessons: You're being transferred to a station downtown that is primarily a Hispanic community. You want to go to school to learn Spanish to better serve your community. Your agency should cover the cost of learning the new language if it's going to be used at your job. Additionally, many departments offer bilingual pay for members who speak a second language.
11. Vehicle mileage when force-hired and detailed to another battalion (after so many miles): You work in Battalion 2 and are force-hired to work at a station in Battalion 14, over 70 miles away. Your agency should provide mileage reimbursement.
12. Medical exams: There's an old saying "don't bend over dollars to pick up pennies." An annual physical might catch that high-blood pressure early enough to prevent serious coronary disease. That small mole on your neck quickly diagnosed may prevent a serious melanoma issue. That persistent cough you attributed to the seasonal allergies caught quickly prevented a serious lung problem that may have put you off with a permanent disability. Departments should be paying for annual physicals.
This list is certainly not exhaustive; there may be other expenses that you feel should be covered by your department. And the full list is not going to be feasible for all departments. The point here is to get you thinking about what your department expects of you, how often and how it impacts you financially.
Taking it up chain of command
You may be wondering what to do if you feel like your department needs to start covering one or more of these expenses.
The best place to start is a department policy or manual. If you don't find the answer there, the next step – particularly for simple requests, like a mileage expense – is to ask your supervisor. Something like a training or internet reimbursement may require a higher-level approval from Human Resources.
Significant changes to policy may require the involvement of a union or labor group. This typically involves holding meetings to discuss the merits of the issue, vote on the issue, and implement a new policy that applies to the department as a whole.
Regardless of the approach, the first step is to find the right person and ask the question. You may not get the answer you like, but it could be the first step in advocating for a change.