Md. county fire union's requests would raise tax rate by 7 cents
What the union has requested, including implementing a DROP program and improving pension and other benefits, would require a tax increase if all done in one year
---
Steve Bohnel
The Frederick News-Post, Md.
County Executive Jan Gardner (D) and leaders of the Career Firefighters Association of Frederick County Local 3666 have finished contract negotiations for now, but that doesn't mean they are any closer to a resolution.
In the past few months, Gardner and union leaders have disagreed over pay, benefits, a deferred retirement option plan (DROP) and other areas.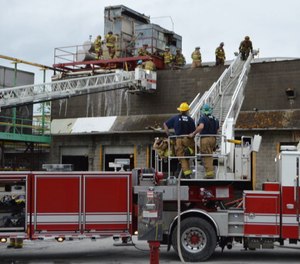 What the union has requested, including implementing a DROP program and improving pension and other benefits, would require a tax increase if all done in one year, Gardner said.
"We figured, if we funded everything we asked, including an estimate of the pension benefits improvements and the DROP improvements ... and the whole ball of wax, we would have to raise taxes seven cents to pay for it," Gardner said.
Chief Administrative Officer Rick Harcum said he and other officials made that calculation by seeing how much revenue those improvements would require.
The end result would be a property tax increase from $1.06 to about $1.13 per $100 of assessed value, he said.
"With all of the public safety needs, we can't afford to do everything at once," Harcum said. "We're making gains each budget year by making incremental additions to each part: sheriff's deputies, firefighters, 911 call-takers."
But Stephen Jones, president of the Career Firefighters Association of Frederick County Local 3666, said union officials were trying to address several areas, not just pay, given the results of a pay and benefits study released earlier this year.
"How can we address several of the concerns that are highlighted in the pay and benefit study over that time period, instead of just one large sum of money thrown at wages that doesn't really solve the problem?" Jones asked.
The county released its final offer to the union earlier this month. On March 7, they made an offer that included converting the current pay scale to an 18-step service-based pay scale.
There were several changes to the pay scale and overall agreement, including:
A 5% upgrade to firefighter I, II and III.
A 10% upgrade for promotion to fire technician.
A 7% upgrade for other promotions.
The county also agreed to increase the pay scale with a market adjustment totaling 8 percent over the next four years, with a 2 percent market adjustment each year during a four-year memorandum of understanding.
Officials also offered an additional 40 hours of paid union leave to increase the total from 80 to 120 hours of additional union leave.
Jones said that all of the county's offers would have delayed the enactment of Question D by more than two years.
It "would never be acceptable for our membership," he said. Question D was passed by more than 70 percent of county voters in November, expanding collective bargaining rights for county firefighters and allowing a neutral arbitrator as required during the negotiating process.
Gardner said by email Friday that issues involving Question D could be discussed next year, given county law and the timing of recent negotiations because of the pay and benefits study.
"The bargaining team always recognized that Question D passed and acknowledged this in all of our discussions of a four year contract," Gardner said. "The County offered to include language to begin working condition discussions in November of 2020 ... I would note that this would be the exact same timing that would have occurred with the Union offer for a two year contract."
"Currently, we do not know what the language of the local ordinance will be so we could not discuss it for the first year of a new contract which would have begun on July 1, 2019. I believe all parties would agree to this reality," she added.
When asked about the seven cent tax increase, Jones said county officials never provided the union with the data or calculations for that conclusion.
"We offered several proposals for two-year offers that were very modest. ... We knew from day one that everything we needed to start doing cannot be done in one year," he said, adding that the offers shouldn't have required a tax increase.
Gardner and the union have also disagreed about the implementation of a DROP program. Gardner said a lot of work needs to be done before one is created.
"Part of what you need to do when you design a DROP plan is really negotiate and determine what all of the assumptions will be, and then you have to do an actuarial study ... to really figure out the long-term impact to your pension fund," Gardner said.
Jones agreed on the amount of work, but said the union's proposal fell on "deaf ears." Gardner said she would be willing to look into the program at future negotiations, but didn't give a specific timeline.
"We really just need to do some homework on this and we'll have to have a debate of, should we have fire and police and public safety employees in a different plan," Gardner said.
The union sent a letter to Gardner earlier this month asking for both parties to come back to the negotiating table. Jones is still hopeful that will happen. According to county code, negotiations can only occur between the union and county between Oct. 1 and Feb. 28.
"We're happy the county executive seems to be concerned and willing to talk about this, but we're just waiting to hear what the next step is," Jones said.
———
©2019 The Frederick News-Post (Frederick, Md.)
McClatchy-Tribune News Service