Calif.'s Proposition 30, which would have helped CAL FIRE with hiring, predicted to fail
Gov. Gavin Newsom criticized the potential tax to fund electric vehicle programs as a publicly funded handout for ride-share companies
---
By Maggie Angst
The Sacramento Bee
SACRAMENTO — A measure designed to tax California millionaires to fund expanded electric vehicle programs and wildfire prevention appeared headed for defeat late Tuesday.
With more than half of precincts reporting, Proposition 30 — also referred to as the Clean Cars and Clean Air Act — was down 14 points.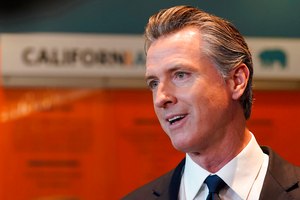 The measure asked voters to support imposing raising the income tax by 1.75% on Californians earning more than $2 million a year — or about 35,000 of the wealthiest people in the state. The funds raised by the initiative would go toward boosting subsidy programs for the purchase of electric vehicles, building more charging stations and allowing CAL FIRE to hire more firefighters.
Although early polling indicated strong support for the initiative, approval ratings slipped as election day drew closer. Outspoken opposition and an ad from Democratic Gov. Gavin Newsom are believed to have played a key role.
Gavin Newsom vs. Lyft
Critics like Newsom blasted Prop. 30 as a publicly funded handout for ride-share companies like Uber and Lyft, which are facing a fast-approaching environmental regulation requiring that they log 90% of their drivers' miles in electric vehicles by 2030.
Lyft bankrolled the bulk of fundraising for the measure, contributing nearly $48 million through an independent expenditure committee. Prop. 30 did not specifically earmark any of the funds for Lyft, though it would make it cheaper and easier to buy electric vehicles.
Newsom, the measure's most prominent opponent, aligned with the California Republican Party, Teachers Association and Chamber of Commerce in opposition. He was joined by some of his biggest political donors who dropped millions to defeat Prop. 30, including Netflix CEO Reed Hastings and Mark Heising, the founder of a San Francisco-based investment company.
In an ad released last month, Newsom called it a "Trojan horse that puts corporate welfare above the fiscal welfare of our entire state." He also argued that it was a "special interest carve-out" devised to benefit a single company, referring to Lyft.
Supporters, including Lyft, the California Democratic Party and many environmental groups, have called that narrative inaccurate. Although they agreed that Lyft would benefit financially, they argued that the measure would play a broader role in reducing greenhouse gas emissions and helping California reach its ambitious climate goals.
From rising sea levels to catastrophic wildfires to warming temperatures, Californians are already experiencing the worsening effects of climate change. A new report released by state scientists last month found that those and other effects of climate change are rapidly accelerating across California.
The governor's opposition has surprised many environmentalists given his leadership on other climate initiatives.
In recent months, Newsom signed a new state mandate to stop adding carbon dioxide to the atmosphere by 2045 and state regulators endorsed an effort championed by the governor to ban the sale of new gas-powered cars by 2035.
---

Previously
CAL FIRE could add more than 1,000 firefighters if Calif. voters approve new tax
Local 2881 President Tim Edwards said more hiring may lead to shorter stints working on wildfires and shorter regular weekly shifts, which now last 72 hours
---
How Prop. 30 would work
If passed, the Prop. 30 tax would be slated to begin in 2023 and remain in place for two decades unless California dramatically reduced its greenhouse gas emissions prior to that date. A state legislative analysis found that it could raise between $3.5 million and $5 billion annually.
Of the funds raised by Prop. 30, 35% were slated to fund new charging stations, 45% would go toward the state's zero-emission subsidy programs and the remaining 20% was to be used for preventing and fighting California wildfires. At least half of the money set aside for electric vehicle purchasing programs and charging stations is required to be spent on projects that benefit residents in low-income or heavily-polluted communities.
After voting in person on Tuesday at Sacramento's Clunie Community Center, Acacia Keith, 27, said she marked 'yes' in support of the initiative primarily to support wildfire relief programs.
"I think that's something that's really needed in California right now," Keith said.
Meanwhile, focusing on the electric vehicle component, Jessica Barrera, 39, said she voted against the measure.
"I think we're going really fast on all the electric stuff," Barrera said. "I'm not opposed to it. I just think we're taking drastic steps really quickly."
___
©2022 The Sacramento Bee. Visit sacbee.com. Distributed by Tribune Content Agency, LLC.
McClatchy-Tribune News Service