FDNY firefighter cheered on by Dwayne 'The Rock' Johnson dies of rare cancer
Matthew McDevitt, 31, was diagnosed with NUT Midline Carcinoma, a disease that rearranges genes in the body
---
By Thomas Tracy
New York Daily News
NEW YORK — FDNY Firefighter Matthew McDevitt, a Queens smokeater who was stricken by a rare cancer — and was encouraged by Dwayne "The Rock" Johnson to keep fighting — died Tuesday after a long battle with the disease. He was 31.
McDevitt was a member of Ladder Company 135 in Ridgewood, Queens, in 2017 when he was diagnosed with NUT Midline Carcinoma, a disease that rearranges genes in the body. He had joined a FDNY about a year before he was diagnosed.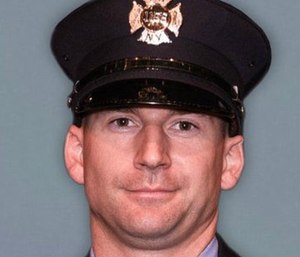 The firefighter braved multiple surgeries, chemotherapy and rounds of radiation and had been accepted into a clinical trial at Dana Farber Cancer Institute in Boston, relatives said on a GoFundMe page that raised more than $93,000 for his medical expenses.
During his cancer fight, McDevitt received encouragement from Johnson, who posted a video shout out to the struggling firefighter in 2017 after the birth of McDevvitt''s first child. McDevitt was a big fan of Johnson's and wore The Rock shirt during some of the procedures.
"You can't stop this sunshine that I'm about to share with you," Johnson said in the video as he relayed how McDevitt was able to get out of the hospital to make it to his son's birth. "Matt, thank you for being an inspiration to me and everyone out there watching this. Go first responders."
Johnson also joked that McDevitt would have to take his Rock shirt off eventually, before it starts to smell.
"You know us big boys....mmm," Johnson said with a smile as he wrinkled his nose.
McDevitt died at Memorial Sloan Kettering Cancer Center on Tuesday. A contingent of firefighters were on hand to carry his flag-draped body out of the hospital.
McDevitt is survived by his wife Jackie and two toddlers under the age of 2, relatives said.
Funeral services for McDevitt will begin Friday at Our Lady of Grace Church in Howard Beach, Queens. A funeral mass will be held Saturday.
———
©2019 New York Daily News
We all draw inspiration from so many things out there in life. Matt McDevitt, we now inspire each other, but more importantly congrats to you and your wife, Jackie on your new baby boy. There's no role you'll ever play that's greater than "father". I know you got a fight ahead of ya with chemo and radiation so stay strong brother and eventually you gotta take that shirt off dude. Sweat turns to stink. Thank you for being a fan. Thank you for a bad ass inspiration. #FirstResponders #NYCFirefighters 👊🏾

Posted by Dwayne The Rock Johnson on Monday, September 18, 2017
McClatchy-Tribune News Service