IAFC Quick Take: 11 decontamination safety practices
Lavender Ribbon Report details how to mitigate exposure to carcinogens through proper decontamination practices
---
CHANTILLY, Va. — In a recent webinar hosted by the IAFC, speakers discussed the topics of firefighter cancer awareness and prevention, as well as the top ways to remain safe while on the job. 
During the webinar, "Surviving the job: Decon procedures," presenters Lt. David Bullard and Assistant Fire Chief Robert Logan give an overview of the findings from the "Lavender Ribbon Report: Best Practices for Preventing Firefighter Cancer," a collaborative report between the IAFC's Volunteer and Combination Officers Section (VCOS) and the National Volunteer Fire Council (NVFC). 
Bullard is a member of the Columbia County (Georgia) Fire Rescue and a part-time firefighter with the Grovetown (Georgia) Department of Public Safety. He also serves on the council of a variety of state public safety boards and is an instructor at the Georgia Fire Academy.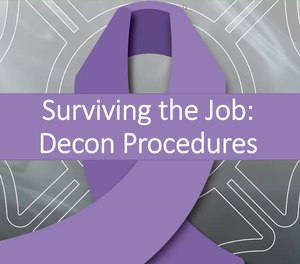 Logan is the Assistant Fire Chief of the Spring (Texas) Fire Department, as well as a certified paramedic. He holds a bachelor's degree in fire science from Columbia Southern University and is currently pursuing his master's degree.
Memorable quotes about decontamination safety practices
"We learn good habits. As soon as you deviate from good habits, you basically teach yourself and that good habit can change into a bad habit. We learn at a young age to follow the speed limit, and the first time you speed, you're nervous. Second time you speed, you're a little bit less nervous. Eventually, you convince yourself that you're a better driver at a higher rate of speed, and when you get caught and get a ticket, you're totally surprised by the fact that you were pulled over. The same thing happens to us in the fire service." – Lt. David Bullard
"Dirty gear is not a badge of honor. Dirty tools is not a badge of doing a lot of work. There's pride in cleanliness and I think that's something we should set the bar for." – Lt. David Bullard
"Water boils from the bottom. If the newer folks and the folks lower in rank start setting the example, maybe it catches on." – Lt. David Bullard
Top takeaways about decontamination safety practices
During the presentation, Logan detailed 11 practices shown to decrease the chances of firefighters contracting occupational cancer as outlined in the Lavender Ribbon Report. 
1. Full PPE must be worn throughout the entire incident. 
This includes SCBA during salvage and overhaul.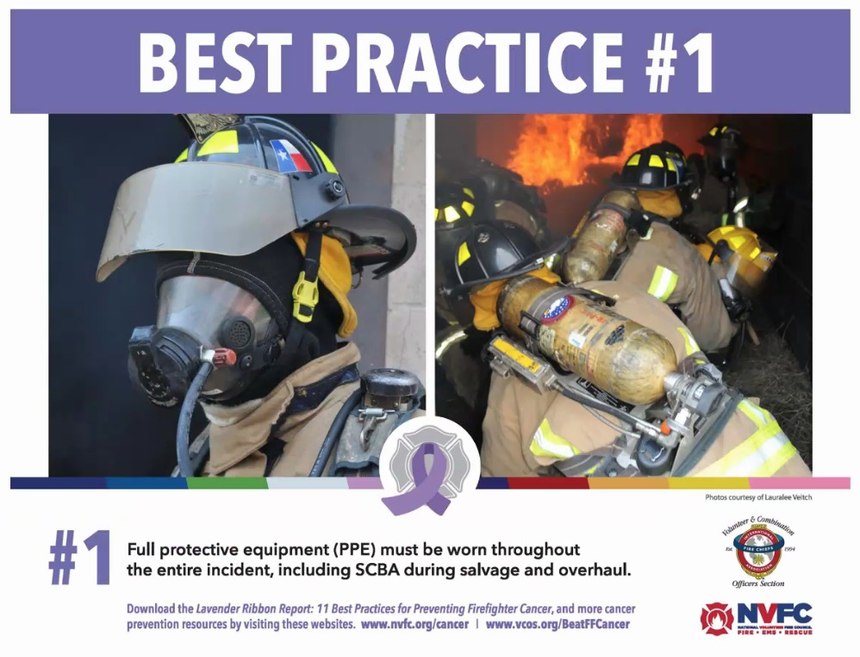 2. Have a backup hood.
A second hood should be provided to all entry-certified personnel in the department.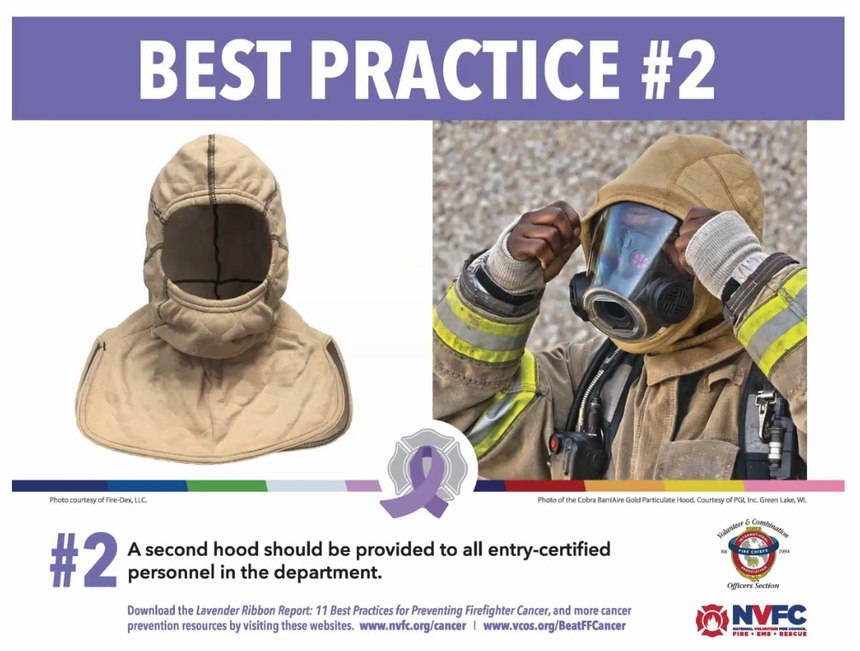 3. Gross decon should begin immediately.
Following exit from the IDLH, and while still on air, you should begin immediate gross decontamination of PPE using soap water and a brush, if conditions allow. PPE should then be placed in a sealed plastic bag and placed in an exterior compartment of the rig or, if responding in POVs, placed in a large storage tote, thus keeping the off-gassing PPE away from passengers and self.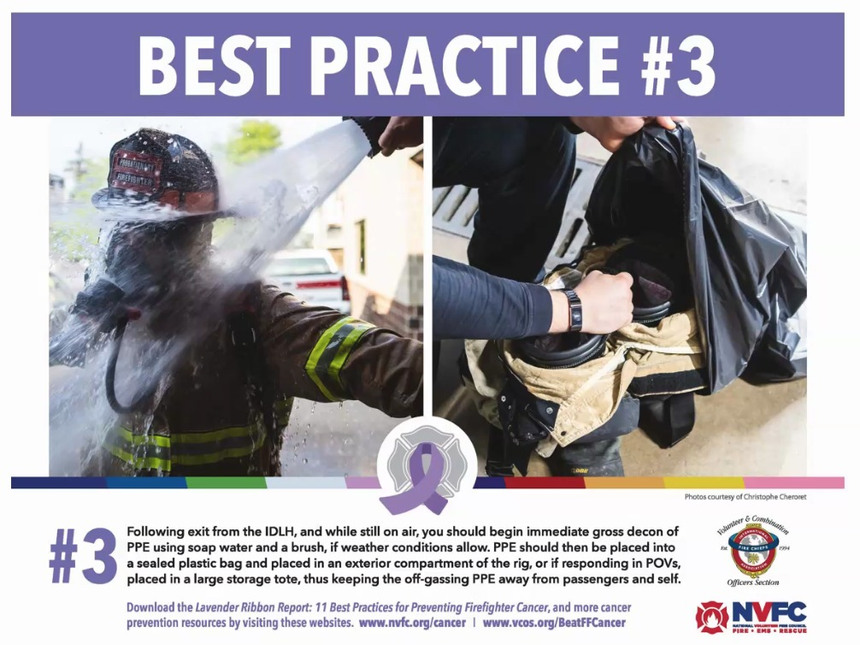 4. Wipe exposed areas.
After completion of gross decon procedures, and while still on scene, the exposed areas of the body (neck, face, arms and hands) should be wiped off immediately using wipes, which must be carried on all apparatus. Use the wipes to remove as much soot as possible from head, neck, jaw, throat, underarms and hands immediately.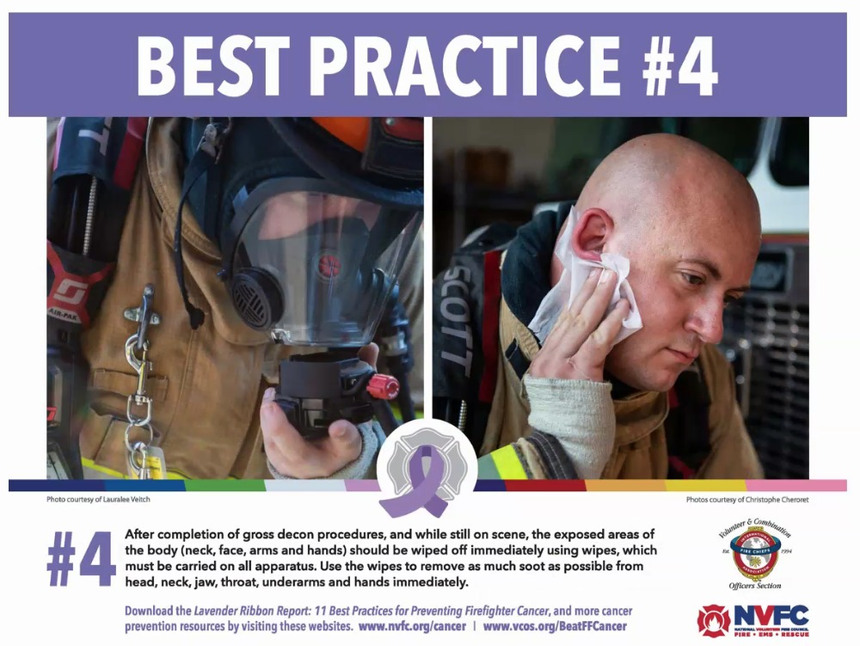 5. Swap clothes. 
Change your clothes and wash them after exposure to products of combustion or other contaminants. Do this as soon as possible and/or isolate in a trash bag until washing is available.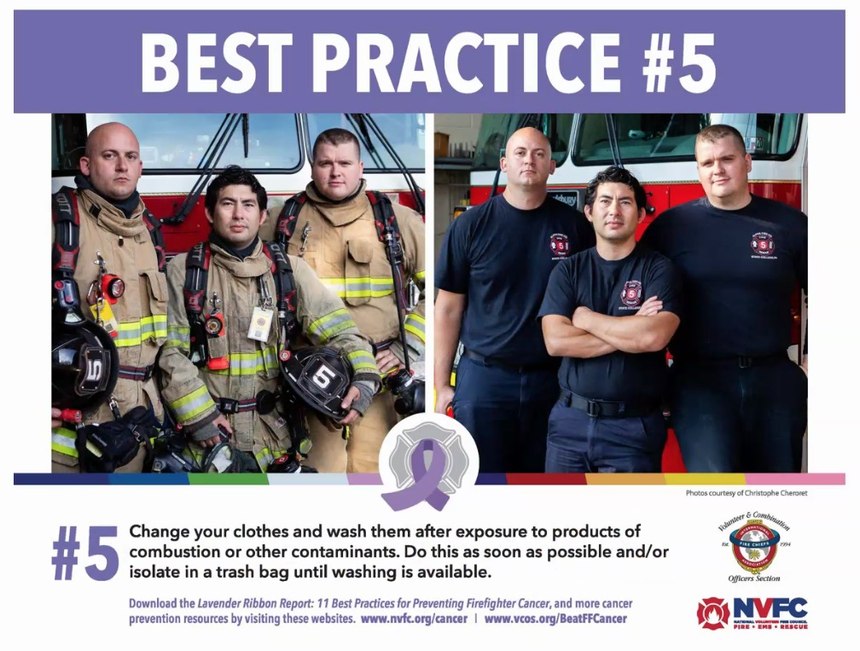 6. "Shower within the hour."
Shower as soon as possible after being exposed to products of combustion or other contaminants.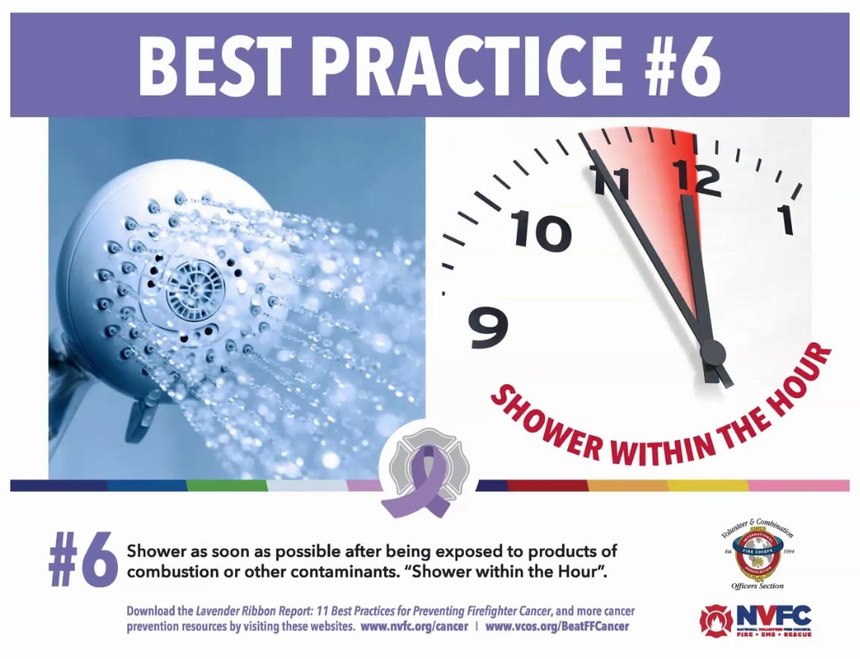 7. No PPE in living areas. 
PPE, especially turnout pants, must be prohibited in areas outside the apparatus floor (kitchen, sleeping areas, etc.) and never in the household.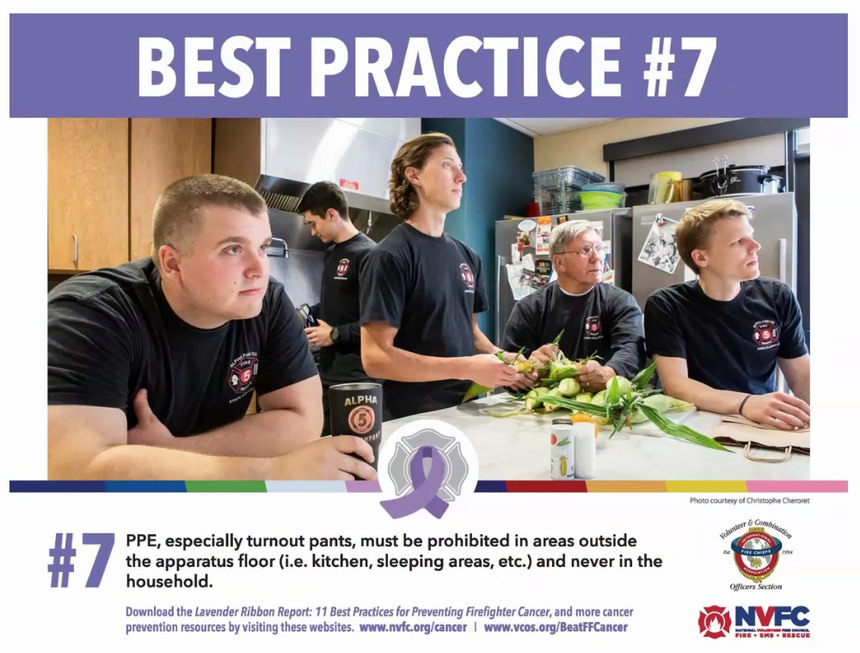 8. Decon and clean surfaces. 
Wipes, or soap and water, should also be used to decontaminate and clean apparatus seats, SCBA and interior crew area regularly, especially after incidents where personnel were exposed to products of combustion.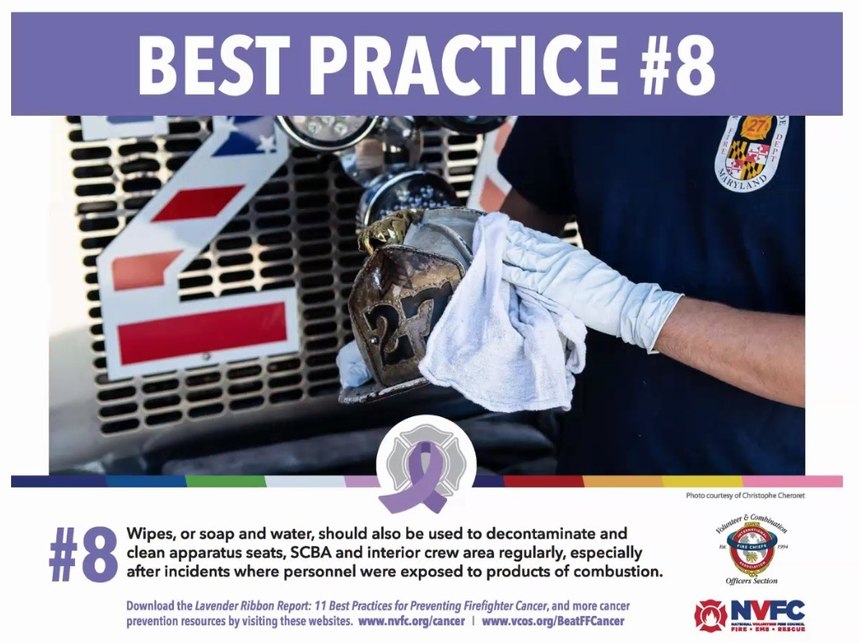 9. Get a check-up. 
Get an annual physical, as early detection is the key to survival.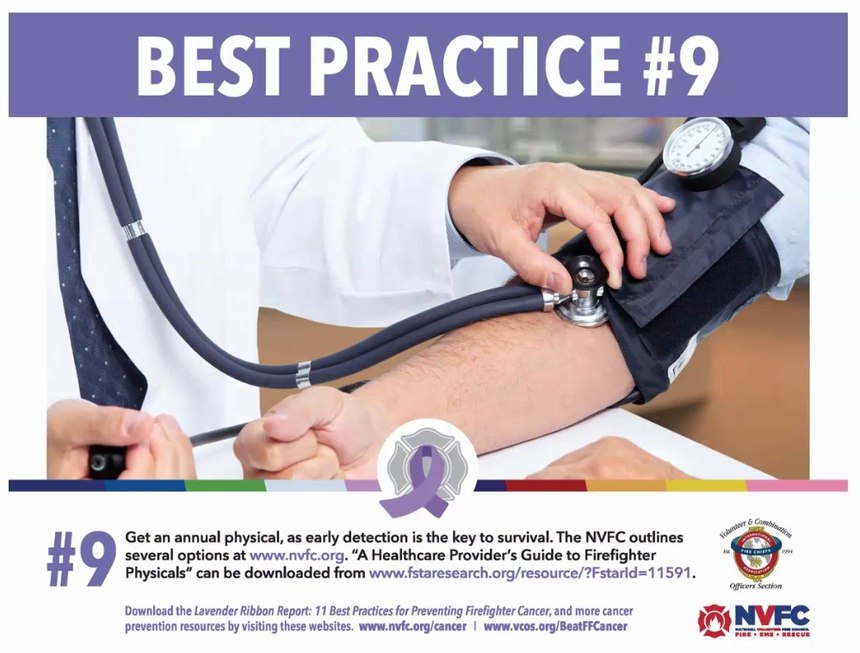 10. Don't smoke. 
Tobacco products of any variety, including dip and e-cigarettes, should never be used at any time, on- or off-duty. 
11. Document everything. 
Fully document all fire or chemical exposures on incident reports and personal exposure reports.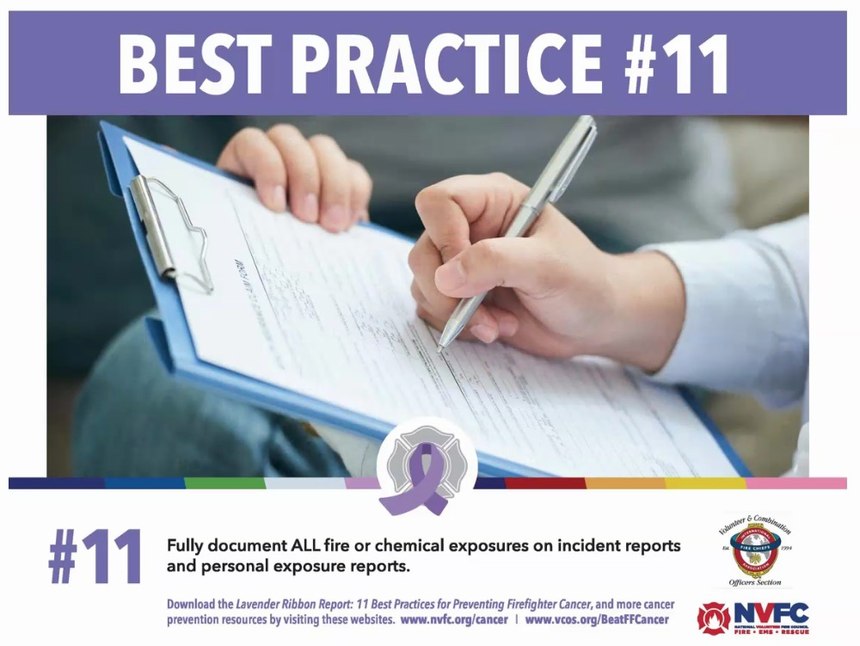 Additional resources on fire safety and decontamination
Read through these supplemental resources from FireRescue1 on decontamination safety and cancer awareness:
Visit the IAFC website for a full list of available webinars and videos.