IAFF takes on PFAS in firefighter gear by hiring lawyers, releasing documentary
The union has retained a trio of prominent "toxic tort law" firms to demand changes to PPE and to explore compensation for firefighters and their families
---
By Ricardo Torres-Cortez
Las Vegas Review-Journal
LAS VEGAS — Life-saving equipment designed to protect firefighters has caused cancer for an unknown number of first responders, according to the International Association of Fire Fighters union.
In a Monday news conference at the Caesars Forum convention center in Las Vegas, the union announced that it had retained a trio of prominent "toxic tort law" firms to demand changes to the personal protective gear firefighters use, and to explore compensation for cancer-ridden firefighters and their families.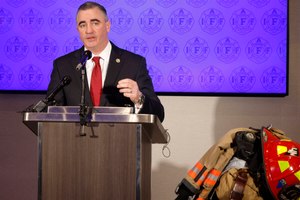 The organization was hosting about 2,000 of its more than 330,000 North America members for a leadership training summit in Las Vegas. The union represents about 850 firefighters in Clark County.
At issue are per- and polyfluoroalkyl substances — also known as PFAS or "forever chemicals" — designed to coat against substances and elements such as heat.
"The very gear designed to keep us safe is laden with these carcinogens," said union president Edward Kelly, speaking next to firefighter's outfit piled in a bundle. "The gear we depend on to keep us safe is killing us."
Tens of thousands of firefighters may have been affected, Kelly said.
Toxic chemicals?
Mostly all U.S. residents have been exposed to the chemicals at issue, according to the Centers for Disease Control and Prevention. "Most known exposures are relatively low, but some can be high, particularly when people are exposed to a concentrated source over long periods of time. Some PFAS chemicals can accumulate in the body over time," the federal agency's website said.
The CDC highlighted fire department personnel as being apt to that exposure. "Current scientific research suggests that exposure to high levels of certain PFAS may lead to adverse health outcomes," the agency said.
That outcome is cancer, according to the union "And cancer is the No. 1 killer of firefighters," Kelly said.
Up to three-quarters of firefighters memorialized in the past year died from "occupational cancer," the Boston firefighter added.
Kelly has served in the 16-member executive board of the Professional Firefighters of Massachusetts. Three of those board members, who worked in different departments, have been diagnosed with testicular cancer, he said.
"One can surmise that their exposure was through the very turnout gear; (personal protective equipment) that they draw on day in and day out that's laden with these chemicals," Kelly said.
Possible litigation
The union decided to retain the law firms Motley Rice, LLC; Simmons Hanly Conroy LLC; and Sullivan Papain Block McGrath Coffinas & Cannavo P.C.
"Collectively, they have decades of experience representing firefighters and hard-working families who've been taken advantage of by corporate interests," Kelly said. "This is the challenge of our generation. And I refuse to let that challenge become a problem for the next generation or our grandchildren."
Attorney Daniel Blouin with Simmons Hanly Conroy said that it's not a "job requirement" to get cancer as a result of firefighters' work.
"These firefighters all around this country and in Canada do not deserve the treatment that the manufacturers of these products have given," he said. "It starts to stop now."
The union is demanding gear that's free of the chemicals in question, and wants the National Fire Protection Association — an agency designated by The Occupational Safety and Health Administration — to change its regulatory standards.
Firefighters in European countries, for example, use safer gear, Kelly said.
The gear U.S. firefighters use has been in circulation since the late 1980s and early 1990s, despite "chemical corporations" knowing the chemicals were "toxic" decades prior to that, Kelly said.
It wasn't clear what action the law firms would take, but a class-action lawsuit is a possibility, they said.
"We are certainly exploring our options and we are intent on taking this fight wherever it goes," Kelly said.
Attorney Joe Rice with Motley Rice told the Review-Journal that the such litigation would be as wide-scaled as cases relating to asbestos, tobacco and pharmaceutical opioids.
Hollywood-produced documentary
At the union's announcement coincided with the release of the documentary "Burned: Protecting the Protectors," which highlights the plight of Diane Cotter, the wife of former Worcester, Mass., firefighter Paul Cotter, who had to medically retire after a 2014 aggressive testicular cancer diagnosis.
"He had no symptoms, no family history, and he had no indication of suffering from aggressive prostate cancer," she said Monday. "What he went through led to his early retirement from his job that he loved."
His anguish and depression made her dive deep into research — having contacted hundreds of people and experts — about the chemicals in firefighters' gear, which was found to have high levels of toxicity, she said.
The film was produced by Hollywood actor Mark Ruffalo.
The findings on the harmful effects of the chemicals on firefighters are relatively new, and Diane Cotter is a big reason why, Kelly said.
"(Cotter) really started pulling the string on this issue and fought against a lot of pressure coming from all sides to try to silence her," he said.
Kelly added: "And I will tell you, she's a hero with the firefighters."
©2023 Las Vegas Review-Journal.
Visit reviewjournal.com.
Distributed by Tribune Content Agency, LLC.
McClatchy-Tribune News Service