27 children, 5 adults hospitalized after carbon monoxide leak at Pa. daycare
Officials declared a mass casualty incident, bringing every ambulance in Allentown and more from surrounding municipalities
---
UPDATE: (5:30 p.m. CDT)
Daniel Patrick Sheehan, Molly Bilinski
The Morning Call
ALLENTOWN, Pa. — The first sign anything was amiss Tuesday morning at Happy Smiles Learning Center in Allentown came when a boy got up from his seat in what's known as the "cozy area" and collapsed mid-stride as he ran across the room.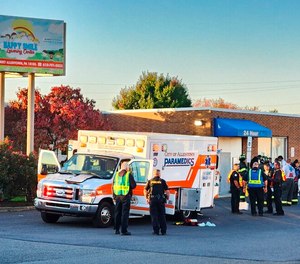 Employees of the daycare at 471 Wabash St. tried to revive him as they called 911 for help. When emergency medical technicians arrived, monitors connected to their medical bags sounded, alerting them to the presence of carbon monoxide, a colorless, odorless and potentially deadly gas. Further testing with a carbon monoxide gas meter showed it was present in a concentration of 700 parts per million, more than three times the threshold that can cause death.
EMTs evacuated the 25 children and eight employees, ultimately taking 27 of them to four area hospitals to be checked. Other children were taken for treatment by their parents, Allentown fire Capt. John Christopher said.
While some patients have been discharged, others were sent to the University of Pennsylvania Hospital and Children's Hospital of Philadelphia because they had especially high levels of CO in their blood, according to a statement from Dr. Andrew Miller, chief of pediatric emergency medicine for Lehigh Valley Health Network.
They are undergoing hyperbaric treatment, which involves breathing pure oxygen in a pressurized environment. Replacing CO in the blood with oxygen quickly is essential because excessive levels of the gas can cause damage to the brain and heart, Miller said.
Lehigh Valley Hospital-Cedar Crest received 14 children and two adult patients and Lehigh Valley Hospital-17th Street received three children, Miller said. The children, several of whom were unresponsive, ranged in age from several months to 10 years, he said. Their symptoms included headaches, dizziness and nausea.
"All the patients had elevated levels of CO in their blood," Miller said. "The levels ranged from three to 10 times higher than what's deemed normal. All were treated with 100% oxygen for at least four to six hours while their CO levels were closely monitored."
Four children and one adult were taken to St. Luke's Hospital-Sacred Heart in Allentown, where all were in stable condition, St. Luke's spokesperson Sam Kennedy said. Six children and two adults were taken to St. Luke's- Allentown and were also in stable condition.
The call for help came at 7:30 a.m. Given the number of people affected, officials declared a mass casualty incident, bringing every ambulance in Allentown and many more from surrounding municipalities.
Happy Smiles owner Jesenia Gautreaux, who founded the center four years ago, was at home when staff called and told her the boy collapsed. When she reached the daycare minutes later, he was in an ambulance. He looked ill but gave her a thumbs-up, she said.
"He was a little dizzy and out of it," she said, adding other children were crying as they were evacuated from the building.
"I believe they were scared and worried about their friends, " she said.
Carbon monoxide exceeding 70 parts per million can cause headaches, fatigue and nausea, according to the U.S. Consumer Product Safety Commission. At concentrations above 150-200 parts per million, disorientation, unconsciousness and death are possible.
Natural gas provider UGI Utilities arrived shortly after 7:45 a.m., company spokesperson Joe Swope said. The investigation determined the leak was caused by a malfunctioning heating unit and a blocked venting system. Multiple workers responded from the utility and shut down the system, Swope said.
"That will need to be repaired," he said, adding that no odor of natural gas was detected.
Christopher said the center does not have carbon monoxide detectors, though it is not required to. In response to the incident, Pittsburgh-area state Sen. Wayne Fontana sent a message to the state House urging it to pass Senate Bill 129, currently in the House Health Committee. The legislation would require battery-operated carbon monoxide detectors in childcare facilities.
Gautreaux said she plans to have such detectors installed.
"We recommend everyone has them," Christopher said. "We've been pushing that for years."
In a Facebook post, the Allentown Fire Department said it has an uptick in calls every year as people start to run their furnaces in cold weather. Oil and gas furnaces should be checked every year to make sure they are running properly, the post said.
A sign on the daycare's door said operations are suspended. Gautreaux said she plans to have the furnace repaired and will reopen as soon as possible.
The daycare generally has about 40 children each day, ranging in ages from 9 months to 12 years, Gautreaux said. It had been closed since Friday for the Columbus Day holiday.
A Pennsylvania Department of Human Services inspection conducted last fall when the center renewed its license found only one problem regarding fire safety — a door that remained locked when the fire alarm sounded. The center had the door repaired. There were no sanctions imposed for any issues, the report shows.
Staff writer Anthony Salamone contributed to this report.
This story has been updated to reflect that legislation requiring carbon monoxide detectors in childcare facilities is still in the House committee and has not been passed.
___
©2022 The Morning Call. Visit mcall.com. Distributed by Tribune Content Agency, LLC.
___
EARLIER: 
By Peter Sblendorio
New York Daily News
ALLENTOWN, Pa. — A scary situation unfolded at an eastern Pennsylvania daycare center Tuesday morning when a carbon monoxide leak caused at least 27 people to be hospitalized, officials said.
An undisclosed number of children were among those taken to four area hospitals from the Happy Smiles Learning Center in Allentown, local news station WFMZ reported, citing the city's fire department.
The victims were all said to be stable following an incident that reportedly required every ambulance in Allentown to respond to the daycare.
Officials arrived at the scene after receiving a call about an unconscious child, and detected that carbon monoxide was prevalent, said Capt. John Christopher of the Allentown Fire Department.
Other victims also showed symptoms, leading to a mass evacuation and for some children to be carried on stretchers, WFMZ reported.
An investigation into what caused the leak is now open.
Authorities say parents have been informed of the issue, while another daycare center reportedly offered to take in some of the Happy Smiles Learning Center's children following the incident.
Allentown is part of Lehigh County, Pa., and is located about 100 miles west of New York City. It's the third-biggest city in Pennsylvania after Philadelphia and Pittsburgh.
___
©2022 New York Daily News. Visit nydailynews.com. Distributed by Tribune Content Agency, LLC.
McClatchy-Tribune News Service