Off-duty NY fire chief saves woman from choking
"Out from behind — out of nowhere — this huge man lifted me up and performed the Heimlich maneuver," Jacqueline Branch, who had choked on a piece of chicken, said
---
Michael Goot
The Post-Star, Glens Falls, N.Y.
CLAYTON, N.Y — Warrensburg Fire Chief Jason Hull saved the life of a woman who was choking Saturday at a restaurant in the Thousand Islands.
Hull and his girlfriend, Beth Hill, were in Clayton for their son's wrestling tournament and were eating at O'Brien's Restaurant.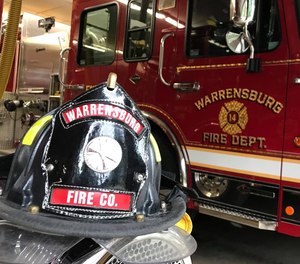 Hull said they had just ordered dinner when he noticed his girlfriend looking around the restaurant.
"She grabbed a hold of me and she said, 'I think that lady needs help,'" he said.
He noticed a woman who had her hands up to her throat like she was choking.
"I just went over and designated a person to call 911 and asked the bystanders that were watching to move out of the way please and proceeded to give her the Heimlich maneuver and some back thrusts," he said.
The food was dislodged.
The woman, Jacqueline Branch, lives in Mahwah, New Jersey, near New York City. She was in town to visit the venue where her stepdaughter will be married.
Branch was eating the chicken francese, when she took too big of a bite and started to choke, she said.
"I didn't know what to do. I was trying to cough it up but I couldn't," she said.
She thought she was going to die.
"Out from behind — out of nowhere — this huge man lifted me up and performed the Heimlich maneuver," she said.
Branch said he did the maneuver five times before the food was dislodged.
"He worked feverishly on me. He didn't give up," she said.
Branch said her chest hurts and her voice is raspy.
"Apart from that, I'm perfectly fine. I am so grateful for him. It's just another day in the life of a fire chief," she said.
Hill, a teacher in Warrensburg, said she was talking with the school's health teacher recently about the importance of knowing life-saving techniques.
"How valuable it is to have that skill whether you're the fire chief, or just a patron of the restaurant. You could save somebody's life," she said.
___
(c)2021 The Post Star (Glens Falls, N.Y.)
McClatchy-Tribune News Service