Solidifying firefighter accountability on the fireline
How to use communications systems to help ensure personnel accountability during wildfire events
---
Communication is an essential part of any fire response, especially during wildland fires and wildland-urban interface (WUI) fires. Wildland fires are large, complex battles covering vast distances in varying topography that can last weeks if not months. The fires often move fast, consuming everything in their path – trees, structures, unwary civilians as well as trained wildland and structural firefighters. Accounting for the whereabouts of hundreds of wildland and structural firefighters moving through base camp and deployed out after every briefing session becomes a daunting task for incident command.
Effective communication during wildfires requires the latest technology, training and preplanning. Tom Harbour, former director of Fire and Aviation Management for the U.S. Forest Service, once noted, "It is imperative that we establish good, clear lines of communication and test them. It is equally important to plan and implement effective communication strategies before and after the incidents. Good communication is essential."
Wildland communications must link various agencies, organizations, departments, companies and services. Aviation teams, ground crews and tactical command must be identified and able to communicate with each other at all times. Consistency and duration of communication links are the critical challenges when it comes to messaging during wildland fire events. Personnel accountability begins with coordinated communications to determine firefighter numbers and their exact location. This allows for accurate positioning of teams, as well as identifying imminent threats and the resources needed to mitigate, including immediate evacuation.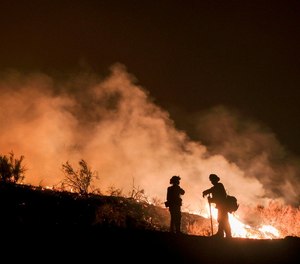 Communication becomes an even greater trial when dealing with WUI fires, as radio frequencies and their hardware differences between structural departments and wildland forces can create intermittent and inaccurate communications, especially over long distances.
The good news is, as these fires have increased in frequency and duration, so have the improvements in communication technology.
Communication advancements
There are several communications advancements that are helping ICs better track personnel on the fireline and maintain firefighter safety.
P25: The main upgrade in wildland fire communications is the development of Project 25. P25 allows for integrated voice and network communications to be accessible for all responding departments, agencies and organizations involved in wildland fire response. P25 users can communicate with their own crews as well as other divisions or groups working without losing contact with command, air-to-ground or central dispatch.
Collective channel: The success of this unifying network begins with radios equipped with VHF frequencies. Unlike UHF and analogue signal structures, this narrowband digital transmission system has more channels available, less interference susceptibility and a wider scope of capabilities. During large incidents involving state and federal authority, individual radios can be programmed to the requirements listed in the Incident Communications Plan (ICP). Channels can be prioritized insuring important information is not lost.
Mobile direct: While direct or line-of-site channels are the preferred broadcast system, wildland fires cover great distances over vast and varied terrain requiring transmission repeaters to convey radio signals. With the use of fixed site repeaters, dead zones can be created or the repeater towers themselves can be destroyed.
Under the banner of new technology, mobile repeaters are utilized to advance VHF signals allowing radio transmissions to travel over and around mountains with greater efficiency, thereby creating fewer dead zones. Fewer dead zone areas mean fewer firefighters at risk.
Radios: In line with the advancements in signal technology are the significant improvements in the two-way radio itself. Heavy-duty, water-resistant and being equipped with larger knobs and a contrasting screen allows for greater reliability. Radio batteries now have longer life and can be recharged in minutes instead of hours. Intuitive in its use, firefighters now have a radio with greater dependability to carry into combat.
What's ahead: Improved voice transmission is just the beginning as wildland fire communications have expanded into the realm of, enhanced data, intranet and video transmissions. Divisions, groups and individual firefighters can be located and identified through GPS digital labeling. Eventually this kind of information acquired from drone images will be relayed throughout the entire communication system in real time.
The importance of wildland fire communications
An appreciation of wildland fire communications begins with the U.S. Forest Service's 10 Fire Orders, three of which relate directly to communications and accountability:
7: Maintain prompt communication with your crewmembers, supervisors and adjoining forces.
8: Give clear instruction and be sure they are understood
9: Maintain control of your forces at all times
A refocus of the 10 Fire Orders is the acronym LCES, which stands for Lookouts, Communication, Escape routes and Safety zones.
It is evident from these priorities that all departments, agencies and organizations associated with wildland fires – especially ground-pounders, sawyers, equipment teams and air crews – recognize the need for clear and effective communications, and the critical importance of having accurate and timely accountability procedures. The sheer magnitude of a wildland fire such as the Camp Fire near the town of Paradise, California, having lost 86 people, 14,000 residences and 530 commercial structures, is reason enough to ensure reliable communications through technological advancements and administrative commitment.
Communication safety
Increased social awareness of wildland fire frequency and structures ruined are helping to renew communication policies, implement new tactical procedures and apply technical systems to a complex strategy. While it is up to firefighters to be competent in their communication and ultimately responsible for their own survival, at the same time, it is critical to wildland safety that communication at all levels, functionally under incident command and organizationally in the command center, be current and totally operational. Such complete communications systems provide for instantaneous accountability between base command and firefighters in the field, ensuring a safer fireground and a more effective suppression strategy.