Quick take: How to create online media policies for providers
Use these tips as the framework for a social media and digital imagery policy
---
A top National Labor Relations Board attorney said "Facebook is like the new water cooler."
But there's a big difference between a handful of people gathered together and gossiping, and the 1.4 billion people on Facebook with the potential to see gossip posted with the click of a button.
That's the premise of the presentation given by Curt Varone, retired assistant chief of the Providence (RI) Fire Department at Fire-Rescue Med in Henderson, Nev.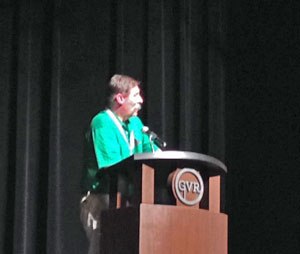 His session "Fire & EMS Digital Imagery and Social Media Challenges" gives EMS and fire leaders the framework to create a policy around those issues. Varone analyzes three real-life examples to demonstrate the need for departments to better manage what's shared online:
A firefighter takes a cellphone video of a dead woman at an accident scene and forwards it to his buddies. It goes viral and the parents of the woman killed see it.
A medic takes a picture of a murder victim and posts it on Facebook.
A firefighter posts a racially-charged rant on his Facebook page leading to protests and demands for his termination.
In many cases fire and EMS providers who share inappropriate information online don't try to disguise themselves because at the time they don't realize they're doing anything wrong.
"Not one of those guys did what they did to maliciously hurt anyone," he said.
If anything they were simply oblivious as to what is appropriate to post online, and this must be managed by setting reasonable boundaries and educating crew members on department policies. Although responders are usually not thinking of it in this way, they must also be aware of the public perception that they are glamorizing their role in someone else's tragedy.
Key takeaways on social media for fire and EMS professionals:
Establish a digital imagery policy
Photos posted online can be embarrassing or illegal; can be considered evidence; and can violate public records laws.
Clarify ownership by establishing that all photos taken by on-duty personnel are the property of the fire department, and limit photo taking approved members using cameras owned by the agency.
Take photos for business purposes only, such as training and documentation, mechanism of injury and scene accidents and investigations.
Designate a "gatekeeper of the pictures" such as an assistant chief, who controls the release and use of photos and operates under certain guidelines that may include, for instance, blurring out certain images before releasing them.
Establish a social media policy
The use of department owned images, logos, or identification as a member of the department that creates an impression that the member is a spokesperson for the department should be prohibited. For instance, if a firefighter begins posting photos and information about fire department responses on his or her personal Facebook page, at some point someone may reasonably see that person as a spokesperson.
Memorable quotes
"We don't have a lot of options when it comes to picture taking. We have to properly manage it."
"If we make it too difficult to make it possible for firefighters to use the pictures we take, we're shooting ourselves in the foot."
"Social media is complicated. There are limitations on our ability to discipline what providers do on social media."