N.M. city program utilizes FFs to assist the homeless on cold nights
Through Santa Fe's code blue initiative, firefighters look to provide the city's homeless with sleeping bags, tents, food and other items, or a ride to a shelter or hospital
---
Sean P. Thomas
The Santa Fe New Mexican
SANTA FE, N.M. — Bobby Whitman has been homeless in Santa Fe for two weeks. For half that time, he has been concerned about the well-being of another homeless man in addition to himself.
While standing in a dugout Thursday evening at Salvador Perez Park in the bitter cold, Whitman motioned toward the adjacent dugout to bring attention to a man in an ill-fitting jacket and bundled up under a thin blanket.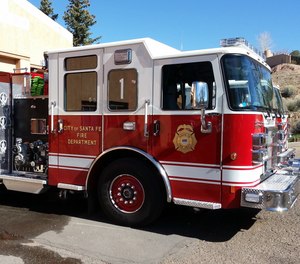 "You see him? He needs help bad," Whitman said. "I was going to call [emergency medical services] or police or something and see if they can help him. He needs to really get some help. ... It is too cold."
At that moment, three members of the Santa Fe Fire Department, who had spent part of Thursday afternoon cruising the city for people in a precarious situation, sprang into action, checking on the man and offering assistance.
"We're going to take him," Firefighter Charles Gonzales said.
The man, conscious and able to walk, was transferred to a hospital for treatment.
Whitman said he believes the firefighters' appearance saved the man from a grim fate.
"This is God's work," Whitman said as the man was placed in an ambulance. "You guys showed up just in time. Isn't that wonderful?"
The effort is part of a 3-year-old city initiative called code blue, aimed at helping homeless people survive the coldest winter nights.
When nighttime temperatures are expected to dip below 15 degrees, firefighters are tasked with offering assistance, including sleeping bags, tents, food and other items, or a ride to a shelter or hospital.
The city's Alternative Response Unit also operates extra hours to assist with the effort.
"It's a pretty informal thing," Fire Chief Brian Moya said. "It's more of, if we see someone, we see if we can help them."
If forecasts from the National Weather Service are accurate, plenty of people might need the department's help.
Nighttime temperatures are forecast to remain below 15 degrees through the end of the week.
Moya said the city enacted its code blue policy Tuesday, and it will remain in place the next four nights. A typical code blue runs for a single night, he said.
"This a whole different ballgame," Moya said.
Shortly after leaving the north-side fire station at Fort Marcy Ballpark, Battalion Chief Scott Ouderkirk and his team spotted two men on Galisteo Street they believed could be homeless.
"Need any assistance?" Ouderkirk called out as he jumped out of his department-issued SUV.
The pair, curious, asked if the firefighters had sleeping bags or food, both of which were handed to them. But when the conversation shifted to shelter, both men seemed uninterested.
A 24-year-old who went by Xavier said he has lived in Santa Fe his entire life and has been homeless for six years.
He said he preferred sleeping on the streets to a shelter and has learned that a good sleeping bag is a key to survival.
"Get yourself a good sleeping bag and sleep plenty," he said. "That should keep you warm."
Ouderkirk said in his experience, the response was fairly typical. Community Health and Safety Director Kyra Ochoa agreed.
She said emergency responders can only remove people from the streets against their will if they are showing signs of a serious medical issue.
"The best we can do is just let them know that people care," Ochoa said. "People are out there, and there are options."
Moya said the department has handed out about 200 sleeping bags through the winter, with about 60 still in stock.
Hank Hughes, executive director of the New Mexico Coalition to End Homelessness, said he expected that the colder it gets, the more people will accept shelter.
He said some homeless people refuse shelter because of the rules against drug and alcohol use, while others fear sleeping around others.
"Some people just prefer to sleep out," Hughes said.
Moya said firefighters will offer a ride to the Interfaith Community Shelter at Pete's Place and Consuelo's Place at midtown, two of three homeless shelters in Santa Fe.
Pete's Place got its start after several people froze to death on Santa Fe streets during the winters of 2005-06 and 2006-07. In 2011, the city bought the former home of Pete's Pets and refurbished the building as a seasonal emergency overnight shelter.
If a person cannot enter Pete's Place — patrons must show proof of vaccination or a negative COVID-19 test to enter, and cannot have been removed from the area before — Moya said they will then take them to the city's midtown shelter.
"The first, best option would be Pete's Place," Ochoa said. "Their mission was to prevent hypothermia, so they are here to do that."
Whitman, who accepted a sleeping bag, initially rejected a trip to a shelter but ultimately relented, allowing an alternative response unit to transfer him and a friend to Consuelo's Place.
Pete's Place Executive Director Korina Lopez, who previously ran the midtown shelter, said Pete's Place has the capacity for about 120 people but has been accepting around 60 during the pandemic.
She said she's unaware if the shelter's overnight population has increased throughout the first few code blue evenings but added that, if needed, the shelter can increase capacity safely up to about 80 people under current guidelines.
Conseulo's Place has about 50 beds, Hughes said, and has opened an overflow area in case the shelter reaches capacity.
"If it works, we will do this every time there is a code blue," he said.
A factor to consider, Lopez said, is the cold snap aligned with the first week of the month, meaning some might have received Social Security or other benefit checks to purchase hotel rooms.
While the vaccine mandate might seem like a barrier to the city's homeless population, Lopez said the shelter has received some rapid tests in case someone needs shelter and cannot provide proof of a negative test.
Ouderkirk said he recently came across a homeless man who said he was vaccinated but didn't have his card. Ouderkirk said the department offered to help get a new card, but he refused.
"I just got the sense they didn't want to go to the shelter," Ouderkirk said.
Ochoa said the city expects that on any given night, about 150 unsheltered people live in nooks and crannies along city streets, while Hughes estimated the number to be about 200.
Both said the number ebbs and flows, increasing during the summer tourism season.
Hughes said he believes the program has been working well, based on the lack of any hypothermia deaths.
Ouderkirk agreed, adding work is still being done to shape the program.
He said the city is working to staff another alternative response unit that, on cold nights, will take on more code blue responsibilities.
The fire department will still stop and offer assistance to anyone who appears to need it, Ouderkirk said.
"This is just part of what we do," he said.
___
(c)2022 The Santa Fe New Mexican
McClatchy-Tribune News Service