Ore. McDonald's turns away wildland fire crew after 15-hour shift
A neighboring restaurant opened its doors to the crew after a franchise worker indicated too many firefighters had already gone through with large orders
---
By Jessie Forand
SISTERS, Ore. — After a group of firefighters were turned away by the Sisters, Ore., McDonald's, the owner of a local eatery gave the crew a free steak dinner.
Wildland Firefighter Darren Rabe and his crew of about 22 people had finished a 15-hour shift at the Grandview Fire last week and were looking for a bite to eat.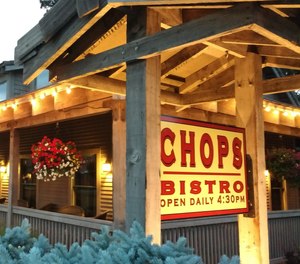 "Usually when they're on fires, there's a camp kitchen that provides food for them so they don't have to buy their own food or worry about that," Rabe's wife, Kalee, told KTVZ. "However, the camp was fairly new, so they hadn't set up a kitchen yet."
The local McDonald's was the only restaurant open in town at the time, about 9 p.m., and when Rabe went to order he was told he couldn't be helped at the drive-thru because too many firefighters had gone through with large orders.
"'Well, we're firefighters too,'" Kaylee Rabe recalled her husband's words.
After the group went into the lobby to order instead, they were turned away.
Another restaurant's staff member saw the incident and called up Tracy Syanovitz, who owns Chops Bistro.
"She called me up and said, 'Do you mind if I bring 10 people over to feed them tonight?' We were closed — and I said, 'Absolutely," Syanovitz told KTVZ.
A McDonald's representative provided a statement, which read, "Supporting first responders is core to my organization's values. We are committed to serving our community and have provided thousands of free meals to our firefighters and first responders battling our local wildfires for generations. We are disheartened to hear of this incident which is not reflective of the high expectations I set for my organization. We look forward to continuing to serve the firefighters who are courageously working to battle the Oregon wildfire."