COVID-19 death of veteran Pa. paramedic declared LODD
Paramedic William J. "Bill" Sekora worked for Jeannette EMS for 31 years and previously served as a volunteer firefighter
---
Paul Peirce
Tribune-Review, Greensburg, Pa.
JEANNETTE, Pa. — First responders said longtime Jeannette EMS paramedic William J. "Bill" Sekora was the answer man — the person first responder veterans and newcomers alike usually went to with their questions.
"And almost always, Bill did have the answer," said Randy Highlands, operations director of Jeannette EMS. "He's definitely going to be missed."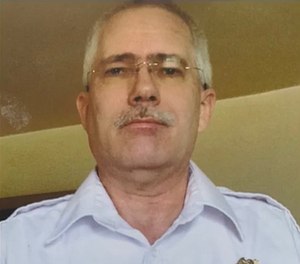 Sekora, 63, died Friday after contracting covid-19. His death has been declared to have occurred in the line of duty by the Pennsylvania Bureau of Emergency Services.
On Wednesday, Sekora's fellow EMTs and paramedics draped the ambulance station at 225 S. 6th St. with black mourning bunting to honor Sekora's service, which spanned four decades.
The Penn Township resident had worked since the late 1970s as a paramedic in the area, including the last 31 years at Jeannette EMS. He was past chief of Penn Township EMS and was a former member of Grandview Volunteer Fire Department in the township as well as the Westmoreland County Hazmat Team 800.
He also was a paramedic instructor for many years, Highlands said.
Sekora had been sick for a few weeks. Highlands said it is believed he contracted the virus while working as a paramedic.
After consultating about the cause of death with county Coroner Ken Bacha, Highlands approached the west region office of the state Emergency Services Bureau with information that was sent to bureau headquarters in Harrisburg, officials confirmed.
Sekora's death was declared to have been in the line of duty on Monday.
"It's certainly a deserving honor. He's always had his hands involved in public safety... looking out for the safety of others," Highlands said.
Bacha said his entire staff, including deputy coroners, were familiar with Sekora through working with him at numerous accident and medical scenes. Bacha also was a member on the county hazardous materials team with Sekora.
"He definitely was a household name in the emergency services field in the county, working so many years as a paramedic, firefighter, on the hazardous materials team and in training paramedics. My experience with him was that he was a good, all-around guy," Bacha said.
Jeannette Fire Chief William Frye said he's known Sekora for over 30 years, first as the father of his boyhood friend, Matthew Stewart, and later as a first responder climbing the ranks.
"He was definitely one of the most intelligent people to go to at a scene with your technical questions and the guy to go to if you with any questions due to his wealth of experience. He's definitely going to be missed," Frye said.
Highlands said the past few days have been difficult at Jeannette EMS.
"We are taught to decompress everything and not to show emotion, but it's very tough when it is one of your own," he said.
Highlands said Sekora was the first covid-related death for the department.
EMS1, a media resource center used by EMTs and paramedics, had documented covid-related deaths of 63 EMS workers nationwide as of April 25, according to its website. That is the latest update available, the group said.
In addition to his son, Matthew, Sekora is survived by a sister, Cheryl Fanell.
Friends will be received Thursday from 2-4 and 6-8 p.m. at the Lindsay-Jobe Funeral Home in Harrison City, where a funeral service will be held at 10 a.m. Friday. Burial will follow in TwinValley Memorial Park.
Memorial contributions may be made to the Jeannette EMS at 225 S. 6th St., Jeannette, PA 15644.
Family and friends have started a GoFund Me page to help cover any additional costs for Sekora's services. More than $1,600 of the $20,000 goal had been donated by late Wednesday.
___
(c)2021 Tribune-Review (Greensburg, Pa.)
McClatchy-Tribune News Service