Navigating the politics of COVID-19
State legislatures and feds follow governors' lead for coronavirus response efforts
---
The nation, beset by an unprecedented economic crisis accompanying the coronavirus pandemic, has seen government at all levels respond in unexpected ways.
"This is unlike other disasters, hurricanes, earthquakes, floods. They happen fast. They're over, you start rebuilding. This is different," said New York Gov. Andrew Cuomo at his daily briefing on March 31. "This is ongoing. And the duration itself is debilitating and exhausting and depressing."
Governors know they've been thrust into a unique role under American federalism. Coronavirus has wrought a true national emergency, but the federal government's capacity to address it is limited by the Constitution. Similarly, ad hoc rules over interstate commerce – a key domain of federal power – have trade groups scrambling, abandoning K Street in Washington for state capitals, where policies of immediate impact are originating as the crisis unfolds.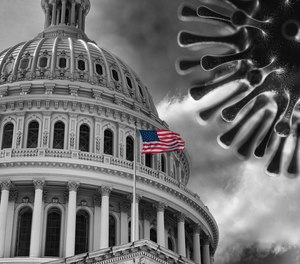 While governors assert themselves in the driver's seat, the Trump administration is the only active player on the field in DC. Keep an active eye on actions by the federal agencies, surely, but know that observers aren't expecting a fourth coronavirus-related bill out of Congress until May.
In fact, many paid firefighters who may have small businesses should be paying more attention to how the CARES Act funds are getting out through the Small Business Administration. But legislative bodies in capitals around the country are largely quiet until the pandemic winds down or passes – including Congress.
Governors take charge with executive orders
Where the Trump administration has hesitated – either out of constitutional concerns or tardiness – governors around the nation have tested their wide latitude and exercised broad powers to pause daily life in their states. "That's led to a patchwork of restrictions, with major cities, including New York, Chicago and San Francisco, virtually shuttered," according to the AP.
Asked about stay-at-home orders in a majority of states, President Donald Trump was ambivalent about issuing a nationwide order.
"There are some states that are different. There are some states that don't have much of a problem," he said, referring to the spreading virus. "You have to give a little bit of flexibility. It's awfully tough to say, 'close it down'.
"We're really here to help governors," Trump added. "They're the front line of attack and that includes in purchasing, by the way. We're here and we're backing them up."
Trump has approved disaster declarations relating to COVID-19, the illness caused by the coronavirus, for half of the nation as of April 1.
Naturally, state executive orders vary widely. Interpretations of which businesses and activities are "essential" also vary. But the various state orders seem to agree, with few exceptions, on guidance rather than martial law orders, discouraging groups of more than 10 from gathering, and that healthcare and public safety services and grocery stores must remain in operation. California Gov. Gavin Newsom's March 19 stay-at-home order also prioritized healthcare "serving those who are the sickest," and resources for those healthcare providers.
New Jersey Gov. Phil Murphy's executive order archive is a telling one, pivoting from flag orders and standard political business to, in the month of March alone, declaring an immediate state of emergency, halting evictions and foreclosures statewide, directing "all residents to stay at home until further notice" and, in the next order, overriding any lower-level contradiction and suspending nonessential healthcare.
Indeed, Murphy issued an order titled, "Commandeering of Property Such as Medical Supplies," allowing state police "to take or use personal services and/or real or personal property" to promote the "public health, safety, or welfare." This is just one kind of once-unimaginable actions taken by any governor during the coronavirus crisis.
Levels of government must get along
Gov. Cuomo complained at his March 31 press conference that states were bidding against each other and the federal government for medical equipment and blamed FEMA for "driving up the price" of ventilators manufactured in China.
"What sense does this make?" Cuomo asked. FEMA should have been the sole purchasing agent all along, he suggested, allocating "by needs of the states."
Asked about the procurement challenge that night, Vice President Mike Pence defended the administration. "The president's vision is FEMA's vision, which is, in response to a health crisis, it's locally executed, state managed, federally supported."
The next day, President Trump told reporters what he has told governors: "Get it yourself, if you can, from your local companies and your local warehouses and factories. If you can do that, you should do that."
Such are the tensions between state and federal government agencies – one reason FEMA was the designated point for resource allocation.
"Governors know how to deal with FEMA," said Pence, the former governor of Indiana, adding that "a certain amount of muscle memory has kicked in" with governors.
House Energy and Commerce Committee Chairman Frank Pallone (D-N.J.) told reporters on a call he believes that "the biggest problem is the states can't find the materials, [and] that they're also confused about how to go about it."
Facilities are another major factor in the COVID-19 response. The Centers for Medicare & Medicaid Services (CMS) announced a "Hospitals Without Walls" initiative to permit healthcare systems and hospitals to offload non-coronavirus patients to hotels.
"Ambulances can transport patients to a wider range of locations when other transportation is not medically appropriate," CMS indicated in a release.
In other words, if your hospitals are seeing higher volume of patients and positive cases, be proactive and assist counterparts in political leadership and the Army Corps of Engineers by surveying what the hand-off might look like at a hotel entrance instead of an ER.
Additionally, Pence asked governors in a March 31 letter to "have plans in place to use the National Guard to move medical supplies from warehouses to hospitals."
Adaptation remains the only battle plan. PPE, equipment and facilities management have emerged as early fronts in the war on COVID-19, but chiefs and administrators would do well to try to anticipate the day-after needs of exhausted personnel and the public once the curve has flattened but prolonged – as well as how to reactivate steps in case of a subsequent wave of infection.
State legislatures wait it out
State houses are a different story. Three had no sessions planned for 2020. Six legislatures were still functioning in some capacity as of April 1. Twelve state houses had completed their 2020 sessions when crisis levels arose, and the remainder adjourned early because of the coronavirus.
In most states, governors can call their legislatures back for special session, and many will. The needs of first responders and public health agencies add to incomplete work on fiscal 2021 state budgets.
"I can't say in the present situation we can pass budgets," a top Alabama lawmaker told The Anniston Star. And Oregon's legislators may meet more than a few times in special session, according to Oregon Public Broadcasting.
Many state constitutions require legislatures to meet in person and thus could require a constitutional amendment rather than a resolution to allow for remote meetings or voting. Remote voting and remote meeting are on the table as ways to embrace technology as a means of keeping legislatures legislating. The governor alone can call special sessions in some 14 states; the legislature itself may do so in the other 36.
According to the National Conference of State Legislatures: "In March 2020, legislatures or chambers in at least 12 states changed their procedures to allow for remote participation. In many cases these changes are temporary or tied specifically to the COVID-19 emergency."
The challenge of operating through a crisis like the coronavirus pandemic has raised questions about continuity. As of April 1, more than 50 members of the U.S. Congress had announced they would self-quarantine, and five had tested positive for the coronavirus.
Members of the House of Representatives present in Washington had to employ a novel parliamentary tactic to pass the CARES Act without a roll call. Some members were hesitant to risk exposure, and others were unable to return to D.C. to vote in person. One member from New York who later tested positive was steps away from the House Speaker Nancy Pelosi (D-Calif.) when she signed an enrolled CARES Act for delivery to the White House.
House Democrats eager for fourth relief package
Washington, as usual, is a different story. Less than a week after the CARES Act became law, Politico reported that leaders in Congress were already discussing "a number of proposals that, while popular in theory, have proven difficult or impossible in the past. Others are talking about taking no further action at all." Such were the political realities that bogged down the CARES Act in the days before it passed. It should be noted that just one week was spent drafting the $2 trillion bill – the most expensive in U.S. history
Seeing another comprehensive bill as the next step, House Speaker Nancy Pelosi (D-Calif.) and committee chairs outlined the need to continue assistance to first responders and healthcare professionals. Pelosi referenced a Conference of Mayors survey accompanied by a letter to Congress finding inadequate supplies and little state support.
Education and Labor Committee Chairman Bobby Scott (D-Va.) said the "effort will not be successful if we lose healthcare capacity because our nurses, doctors and other medical staff are getting sick." Scott has introduced a bill to address the issue, which was alluded to in our March 23 write-up. "OSHA currently has no standard that addresses airborne infectious diseases, and CDC's COVID-19 infectious controls guideline is not enforceable by OSHA."
Any fourth bill will be harder to craft and get through both houses, particularly because by then the worst may have passed and it will be considered more recovery than response. Commentators and lawmakers have characterized the next bill as focused on economic stimulus rather than relief.
Trump has tweeted support for infrastructure spending around the $2 trillion mark, but Senate Majority Leader Mitch McConnell (R-Ky.) told The Washington Post that Pelosi "needs to stand down on the notion that we're going to go along with taking advantage of the crisis." A similar fight stalled the CARES Act for days before its unanimous passage.
More direct payments to individuals, support for business and tweaks to the tax code could be on the table, in addition to fixes implementing the first three coronavirus bills. But the former are more controversial, and resources from those bills are hardly exhausted, in law less than a month.
"If we determine that another measure is necessary," Sen. Pat Toomey (R-Pa.) told The New York Times, "it should not be the vehicle for Speaker Pelosi's partisan, parochial wish list." The posturing does signify that phase four "might follow a more traditional path of divided government," particularly as liberals see it as an opportunity for long-held policy priorities kept out of the CARES Act, Politico reported.
Still, the House and Senate meet in minutes-long sessions as one member presides, a constitutional way to abate recess appointments by Trump to key positions. One positive of not formally adjourning for the interim is that bills may be submitted and doled out for committee work, albeit remotely since no hearings are scheduled.
Legislative calendars tentative at best
Congress may not meet in the month of April at all; the public is not allowed back for tours until May 1, according to Congress' "hometown paper," Roll Call. Teleconferences and Zoom grids have replaced press conferences; "paper hearings" and remote interactions have replaced public proceedings.
The coronavirus outbreak interrupted the fiscal 2021 budget season, too. Appropriators can't say when hearings and subcommittee marks will get underway. Work on the annual defense policy bill was postponed after House Armed Services Committee leaders held out for April 30.
In fact, House leadership has indicated that district work periods and short workweeks may be canceled in the same way schoolchildren lose breaks to snow days. If only.
As Trump began his April 1 briefing, "difficult days are ahead for our nation. We're going to have a couple of weeks ... that are going to be horrific."
What's ahead
Oversight of CARES Act emergency disbursements was a hot topic throughout negotiations over the bill and since, particularly between the administration and the party opposite in Congress. To that end, Pelosi announced she would create a House Select Committee on the Coronavirus Crisis solely to ensure "dollars are spent carefully and effectively."
GOP counterpart Rep. Kevin McCarthy (R-Calif.) called that concept "really redundant" since the bill created an office of Special Inspector General for Pandemic Recovery, and a Congressional Oversight Commission, apart from new funding for the Government Accountability Office and the work of Congress' own standing committees. Such are the policy fights in play even before Washington returns to work. 
Resources
Select readings by the Congressional Research Service: