President Biden announces National Month of Action to encourage vaccinations
The Administration seeks to mobilize an 'All-of-America Sprint' to get 70% of U.S. adults vaccinated by July 4
---
By Janelle Foskett
The Biden Administration announced on Wednesday a National Month of Action to mobilize key stakeholders to help encourage an "All-of-America Sprint" toward vaccinations, with a goal of 70% of U.S. adults having at least one shot by July 4.
The plan seeks to engage national organizations, local government leaders, community-based and faith-based partners, businesses, employers, social media influencers, celebrities, athletes, colleges, young people, and thousands of volunteers to encourage vaccinations. President Biden highlighted efforts that will make it even easier to get vaccinated and incentivize vaccination. Further, Vice President Kalama Harris will lead a National Vaccination Tour to encourage vaccinations in key communities across the country.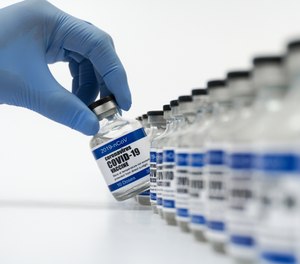 The National Month of Action will include the following initiatives:

MAKING IT EASIER TO GET VACCINATED AND ADVANCING EQUITY
Free childcare: Four of the nation's largest childcare providers will offer free childcare to all parents and caregivers getting vaccinated or recovering from vaccination from now until July 4. Further, the U.S. Department of Health and Human Services is issuing guidance that encourages states to use childcare funding from the American Rescue Plan to provide financial incentives to neighborhood- and home-based childcare providers. Visit Vaccines.gov/incentives.html to learn more.
Extended hours at pharmacies: Starting next week, thousands of pharmacies nationwide will stay open late every Friday in June, and offer services throughout the night to make sure Americans can get their shot.
MOBILIZING THE COUNTRY TO DO MORE VACCINATION EDUCATION AND OUTREACH:
Community outreach: The Administration's organizing efforts will focus on person-to-person action that connects people with resources like Vaccines.gov, text 4-3-8-8-2-9, the National COVID-19 Vaccination Hotline (1-800-232-0233), and more. The Month of Action will include calls and texts to people in areas with low vaccination rates and canvasses in neighborhoods close to walk-in clinics where people can get vaccinated on the spot. Visit WeCanDoThis.hhs.gov to learn more.
"We Can Do This" national vaccination tour:  Vice President Harris will lead a nation-wide tour to reach Americans who still need protection against the virus, to highlight the ease of getting vaccinated, encourage vaccinations, and energize and mobilize grassroots vaccine education and outreach efforts.
"Mayors Challenge": Mayors across the country are launching the "Mayors Challenge," a competition to see which city can grow its vaccination rate the most by July 4. Participating mayors commit to taking actions throughout the month to boost vaccinations, such as coordinated canvassing efforts, partnerships with local businesses, and incentives for local residents.
"Shots at the Shop": The Administration is partnering with the Black Coalition Against COVID, the University of Maryland Center for Health Equity, and SheaMoisture to launch "Shots at the Shop," an initiative that will engage Black-owned barbershops and beauty salons across the country to support local vaccine education and outreach efforts.
Blanketing media: The National Association of Broadcasters (NAB) will have local station members air vaccine education segments in their programming. Medical experts will have the opportunity to address questions and concerns. [Read next: 'Warp speed' vaccine: Addressing firefighters' concerns over the quick vaccine rollout]
COVID-19 College Challenge: Colleges and universities can take a pledge to take action to get their students and communities vaccinated by signing up at WhiteHouse.gov/COVIDCollegeChallenge. The Administration will provide resources to assist colleges and universities in vaccination efforts; facilitate on-site vaccinations at schools; and launch a student corps within the COVID-19 Community Corps to recognize and activate students across the country.
INCENTIVIZING VACCINATION
During the Month of Action, the Administration will work with employers to make it easier to set up workplace vaccination clinics, and call on more businesses to encourage and incentivize vaccinations. Americans will be able to find a list of these and other incentives on Vaccines.gov/incentives.html.
Examples of new private sector actions and incentives that recently launched include:
Anheuser-Busch will give away free beer to all adults over the age of 21 in America on July 4th to celebrate the country's progress against COVID.
CVS launched a sweepstakes for vaccinated people to win free cruises, tickets to Super Bowl LVI, and cash prizes.
Door Dash will give $2 million in gift cards to the National Association of Community Health Centers to incentivize vaccinations.
Major League Baseball teams will offer on-site vaccinations at games and give free tickets to those who get vaccinated.
Microsoft will give away thousands of Xboxes to Boys and Girls Clubs in hard-hit areas who will run promotions and educational seminars about the importance of vaccinations in hard-hit and hard-to-reach communities.
Kroger launched a "Community Immunity" program to give $1 million to a vaccinated person every week in June and give dozens of vaccinated Americans free groceries for a year.
United Airlines launched the "Your Shot to Fly" Sweepstakes for Mileage Plus members to win a year of free flights or a roundtrip for two in any class of service.
According to The White House, 63% of adult Americans have gotten vaccinated, including 73% of Americans age 40 and over.
"COVID-19 cases and deaths have plummeted as a result – cases are down over 90% and deaths are down over 85% since January 20th," according to a statement.
---

Read Next
I will get a COVID-19 vaccine. I hope you do the same
Vaccination protects providers, partners, the public and patients from the known and significant risks of COVID-19 infection