Man sentenced for stealing more than $150K from Pa. fire, ambulance companies
The man was convicted of writing false checks to himself while serving as treasurer for both companies
---
Ed Lewis
The Times-Leader (Wilkes-Barre, Pa.)
WILKES-BARRE, Pa. — An ex-treasurer for the Germania Hose Co. and the now-defunct Duryea Ambulance Association was sentenced Thursday and ordered to repay more than $150,000 he was accused of stealing.
Eric John Wruble, 43, of Duryea, was accused of secretly siphoning money from the fire company by writing checks to himself to pay personal bills and buying a 2009 Dodge pickup truck, and using a Germania credit card to purchase gas-powered lawn tools.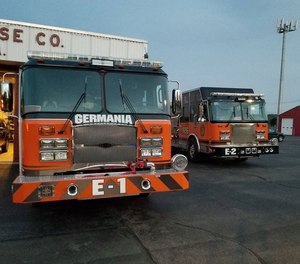 Police alleged Germania's bank records showed Wruble wrote and forged 168 checks from 2009 to August 2018.
While police executed search warrants for Wruble's bank records during the Germania investigation, they uncovered he also wrote and forged 25 checks from the Duryea Ambulance Association totaling $14,059 from May 2012 to December 2012.
Wruble disguised the stolen funds in the "Memo" section on each check by writing "sewer repair," "roof repair," and "water heater repairs," court records say.
The ambulance association closed in 2013 due to lack of funds to pay bills.
In October, Wruble pleaded guilty to theft, receiving stolen property, forgery, access device fraud, unsworn falsification to authorities and deception of financial documents related to the Germania Hose Co. theft. He also pleaded guilty to theft and forgery for stealing funds from the ambulance association.
At his sentencing hearing before Luzerne County Judge Joseph Sklarosky Jr., Wruble apologized saying he was sorry. His wife pleaded with the judge to sentence Wruble to probation saying they will likely lose their home.
His lawyers, James W. Barr and Thomas M. Marsilio, who stood in for Attorney Mark M. Mack, said Wruble is remorseful and is doing his best to repay restitution.
Wruble began siphoning money when his mother and wife became ill.
Assistant District Attorney Gregory S. Skibitsky Jr. said Wruble was placed in a position of trust in which he violated. He said Wruble continued to steal funds for a number of years placing the first-responder agencies at financial risk.
"He jeopardized the community and violated their trust to better himself for his own benefit," Skibitsky said.
Sklarosky said the intentional theft of funds from volunteer emergency agencies reflect upon the community who become fearful to donate funds.
Sklarosky said he felt a jail term was warranted, sentencing Wruble to one-to-two years in jail followed by 15 years probation. He was also ordered to pay a total of $150,193.16 in restitution.
"In this situation, it could take decades," the judge said when restitution will be fully paid.
———
©2020 The Times Leader (Wilkes-Barre, Pa.)
McClatchy-Tribune News Service