Pa. volunteer firefighter expected to plead guilty to role in Capitol riot
Michael J. Rusyn, 35, is likely to finalize a plea deal with federal agents, his lawyer said
---
By Jessie Forand
OLYPHANT, Pa.  — A potential plea deal is on the table for a Pennsylvania volunteer firefighter who is accused of involvement in the riot that infiltrated the U.S Capitol on Jan. 6.
A lawyer for Michael J. Rusyn. 35, and federal prosecutors are in negotiations, The Times-Tribune reported.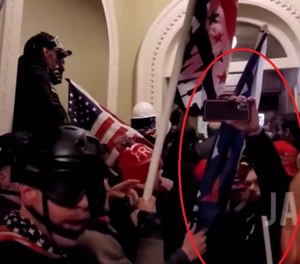 No details about the possible agreement were given.
Rusyn is accused of joining the crowd that tried to enter the U.S. House chamber, accusing Capitol Police of being "traitors" and chanting threats directed at House Speaker Nancy Pelosi, according to prosecutors.
Specifically, Rusyn is alleged to have recorded the encounter on a cell phone.
Rusyn claimed the crowd pushed him inside the building and that he tried to take broomsticks, hooks and other weapons away from others.
"We've been in discussions about potential resolution of the matter," Department of Justice trial attorney Michael J. Romano said during a status conference for the federal case on Thursday. "Unfortunately, we have not been able to quite finalize the discussions yet."
Related: Ret. Pa. FF arrested for allegedly throwing fire extinguisher at Capitol police
Rusyn's lawyer, public defender Andrea Bergman, said she is waiting for more information about the deal.
"I do agree that I think over the next couple of weeks, we should be able to finalize those plea discussions," she said. "I do anticipate that the matter will be resolved by plea."
Another status conference is scheduled for September, which could become a change of plea hearing should Rusyn accept a deal. Read the full criminal complaint against Rusyn below: