Marketing the message: How FDNY spreads the word about firefighter health and safety
Detailing simple steps fire departments can employ to best connect with members
---
An important and often overlooked component of teaching and implementing contamination reduction strategies is the marketing of the message to our firefighters. Have you ever thought about the vehicles or methods you use for the delivery of your training messages?
Well-intentioned training initiatives often fall short due to their inability to best connect with the end user – in our case, the firefighter. Additionally, we fail to optimize the delivery of the message by not leveraging technology and the many available ways to deliver the message.
Here we'll address how to enhance efforts to "market the message" to our firefighters, specifically as it relates to issues of health and safety, and use FDNY examples to show how it works.
Optics matter
To begin, fire department photos and videos must portray the image we want to convey, as optics are an integral part of messaging. Imagery must always demonstrate what "right" looks like to the department. This is especially important when it comes to images showing safe practices, clean gear and clean firefighters when delivering contamination-reduction messages. Further, this standard must be uniformly upheld. For example, a training video on truck company operations that features a firefighter wearing dirty gear will send an unintended message that can subconsciously reinforce the message that dirty or unsafe gear is acceptable.
Fireground photos used for training must follow these same rules. Photos that depict firefighters with a soot-covered face must not be used in internal or external campaigns. Nothing can send a mixed message faster than imagery that doesn't align with the message. They say a picture is worth a thousand words. One bad photo can upend even the best-articulated messages.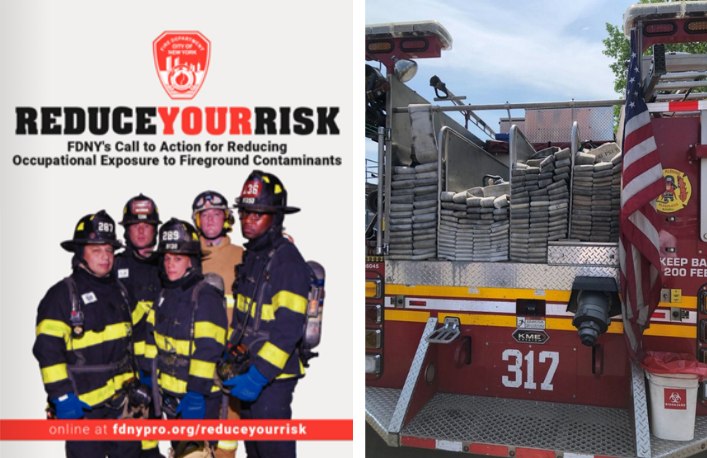 Multiple marketing mediums
When planning the marketing of a training message, think of the marketing as you would a consumer product. Consider the best-known products and the marketing strategies they employ. It is no coincidence that the best-known products are also the best marketed.
When planning to market messages to your members, it is useful to utilize multiple messaging methods. Similar to the most popular or well-known consumer products that use many different advertising mediums, we too must employ as many different "advertising" mediums as possible.
These best-known produces are advertised using radio ads, print ads, TV commercials, product placement, billboards, social media and other prominent advertising, such as signage at a ballpark. The omnipresent stream of messaging makes these products and the message they wish to deliver easy to remember and easy to recall.
Additionally, it is important to consider using as many of the five senses as possible (sound, smell, taste, touch and sight). The five senses are the primary means we use to gain new knowledge. Our senses work together and help us better understand and remember the message. Utilizing more than one sense enhances to the likelihood that a message will be remembered.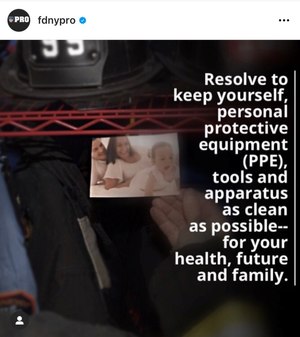 Leverage social media
The public is not your only audience on social media. Your members follow your social media platforms, too. This provides an exceptional opportunity to amplify your training message with well-crafted messages that articulate what your department is doing to best protect its membership. It also instills pride and a strong, positive image of an organization that cares about its firefighters. This can also act as a powerful recruiting tool, as followers of your organization who may be considering a career in the fire service can recall and recognize the positive image of your department.
In the FDNY, following the issuance of our Reduce Your Risk publication, several social media posts were created and directed toward our membership. One, posted on Jan. 1, 2018, proposed a New Year's resolution for firefighters to resolve to reduce their risk. The message read, "Resolve to keep yourself, personal protective equipment (PPE) tools and apparatus as clean as possible – for your health, future and family."
Of course, there are other barriers to implementation and compliance of best practices to reduce firefighter exposure to harmful contaminants. Don't let your marketing of the message be one of them.
Decorate with a purpose
As a recent visitor to the Fire Academy told me, "You decorate with a purpose here." This is as accurate a statement any visitor has ever spoken.
Decades of FDNY members before us began the task of decorating with a purpose. Today, we are good stewards who continue this training tradition and continue to develop quality training messages. A training classroom with posters or props on the wall is an excellent example of decorating with a purpose. Marketing the message can be as simple as a message board or a monitor continuously playing training videos. There is perhaps no better place than the Fire Academy or training center to ensure your members are fully immersed in the training experience. Think outside the box, and develop innovative and memorable experiences for your firefighters. This is how true learning and remembering take place.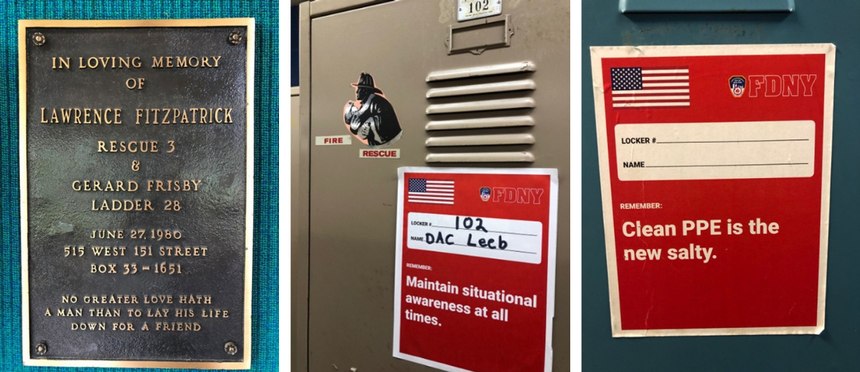 At the firehouse
It is impossible to visit an FDNY firehouse and not find examples of company pride, company history, and examples of marketing and decorating with a purpose – from the training material posted on firehouse bulletin boards to the poster that reminds firefighters to sweep the floor with the nozzle to avoid debilitating knee burns, or the plaques and memorials that hang on our walls reminding us of those that have come before us and to never forget. The importance of training is ubiquitous and unmistakable.
When developing a marketing strategy, consider the walls of the firehouse as important real estate that firefighters see on a continual basis. Messages that achieve "wall status" are often the messages that are most important to those that work there. This is a coveted space for training messages to occupy. Draft the massages accordingly. Recognize that the walls of the firehouse as exceptionally important extensions of the training canvas and develop messaging for these areas.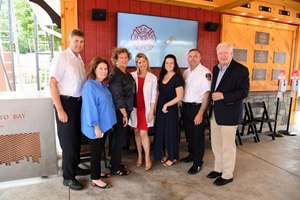 Partnerships with shared goals
FDNY recently formed a partnership with Mollie's Fund, an organization with a primary mission to educate the public on skin cancer and melanoma awareness. This message aligns with the message we want to deliver to our firefighters. This results in a mutually beneficial partnership that leverages shared goals and the marketing ability of both organizations.
Skin cancer is a common cancer in the general population and therefore requires a greater educational push to market the message and decrease skin cancer rates. For firefighters, the risk is even greater. Our partnership with this impactful organization will enable the FDNY to market our skin cancer awareness message at all of our training locations to the hazards of skin cancer.
The primary marketing vehicle for this endeavor is sunscreen lotion dispenser's complete with an attached message of skin cancer awareness. These are the same type of sunscreen dispensers that you may find at your local beach or park. What better way to market the message of skin cancer than at a training facility where training and education are the primary goals?
The fire academy
It is perhaps a natural fit to have education occurring at the Fire Academy – and any other training location. What better way to make a statement about skin cancer awareness and best protect and educate all of your firefighters? Training and education begin on Day 1 and prepare the firefighter for a career of health habits.
At the FDNY Fire Academy, our instructors typically spend several hours each day outside, often in the sun. Additionally, although not required, our new probationary firefighters typically arrive at the academy on Day 1 with a crew cut or very short hair. Both our instructors and new firefighters are exposed to the sun during training. However, it is important to state here that there are other reasons for firefighters' increased risk of skin cancer, such as dermal exposure to fire ground contaminants. This must be part of marketing the message. The use of sunscreen dispensers provides a vehicle that is memorable and includes multiple senses and therefore the message will likely stick, literally and figuratively.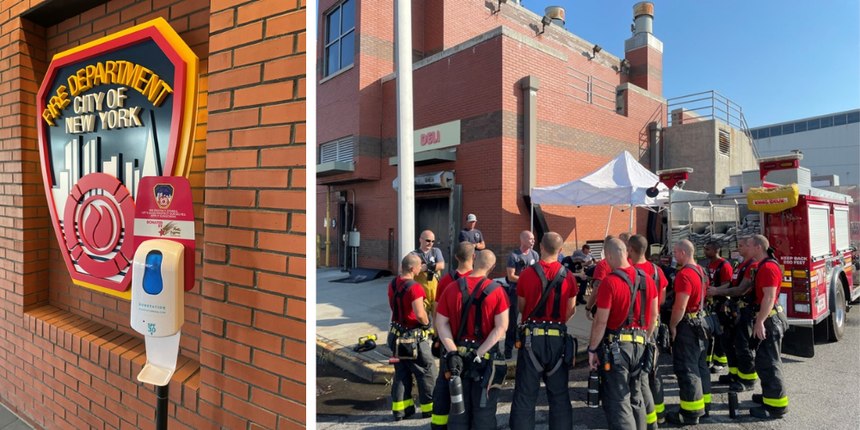 Final thoughts
A simple skin cancer awareness campaign, coupled with the partnership with Mollie's Fund, demonstrates how several marketing strategies can together provide a memorable and powerful message. These marketing techniques are useful tools for a variety of important training messages. When properly marketed and delivered, well-crafted training messages are more likely to be received and remembered, ultimately leading to a safer, healthier and better-educated firefighting team.