Forest management, WUI planning, humanity needed in California wildfires
Long-term community action is key to reducing the loss of lives, property, infrastructure and natural resources from wildfires
---
The most recent rash of fires, the Camp fire in northern California and the Woolsey fire near Malibu, provide further evidence that the once limited fire season has become a year-long threat.
The Camp fire has now been declared the most destructive in California history, having incinerated everything in its path, including people trying to escape. As of this writing, over 6,700 structures have been destroyed in the Camp fire, including 6,453 homes in what was the town of Paradise, Ca. The Camp fire has also claimed 29 lives. An additional two people have perished in the Woolsey fire.
While we'll wait for historians to verify, the 29 Camp fire fatalities ranks this one of the deadliest – if not the deadliest in California history. Officials have cautioned that the Camp fire fatality number may rise, as at least 200 people remained unaccounted for. Meanwhile, more than 300,000 residents statewide have been evacuated from their homes –170,000 in Los Angeles County alone.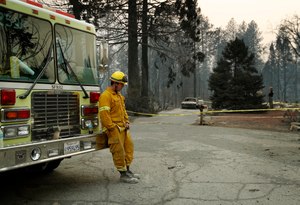 The already weary firefighters and community members now face the politics, media and social media commentary, while some residents still seek information about unaccounted for loved ones. President Trump's tweet railing on forest management dollars, while families who have not accounted for family members hear widespread media/social-media reports of mounting deaths.
There is no reason for these massive, deadly and costly forest fires in California except that forest management is so poor. Billions of dollars are given each year, with so many lives lost, all because of gross mismanagement of the forests. Remedy now, or no more Fed payments!

— Donald J. Trump (@realDonaldTrump) November 10, 2018
In a free society with the connectivity we have achieved, there is little we're going to solve by belaboring any of those challenges. We can only hope for humanity and understanding of the power and strength of words and the anguish family members are experiencing.
Forest management
The United States Forest Service is the steward of 193 million of the country's 747 million acres of forest and 788 million acres of grazing and grass lands. According to the Forest Service,  "The agency's top priority is to maintain and improve the health, diversity and productivity of the nation's forests and grasslands to meet the needs of current and future generations. Forest management focuses on managing vegetation, restoring ecosystems, reducing hazards, and maintaining forest health."
While the stated priority is admirable and ambitious, it is abundantly evident that the resources committed to this goal are not having the impact necessary to keep us all safe. The reality shows a bifurcated ownership/management, with states and federal rules insufficient to achieve the Service mission across federal, state, local, private and commercial land ownership.
As a point of interest and fact, there are 2.3 billion acres of land in the entire country, and the U.S. Forest Service responsible for 1/10th of it. California has 100 million acres of land, 43 percent of which is used for agricultural purposes (generally not the lands directly burning – also not the lands where many people live). Sticking with the math, 33 percent of California's land mass (33 million acres) is forested, leaving 20 percent of the total (about 20 million acres), for California's 37,253,956 residents to occupy.
Of California's 33 million forested acres:
Federal forest and park service entities manage 57 percent.
State and local entities (including CalFire) own and manage 3 percent
Families, Native American tribes and companies own and manage the remaining 40 percent.
It is nearly impossible to coral the ownership to sustain common interests. There are 9 million acres of forest owned by individuals – nearly 90 percent of those owners own less than 50 acres. That amounts to over 160,000 owners within just that 9 million acres of land. The concepts of thinning forests and creating defensible spaces around structures becomes lost in translation, politics, personal interest and money.
Wildland/urban interface
In California, development is now consuming an average of about 40,000 acres of agricultural land per year. The U.S. Forest Service reports the loss of 6,000 acres of open space across the country to "other uses" every day  – that's over 2 million acres of open land lost each year. As we continue to encroach development into forested areas, without appropriate forest management and wildland-urban interface planning, we will continue to set unenviable records every cycle.
Fire departments and responsible parties are forced further into the forest, into land management areas with inadequate access bridges, narrow roadways, single entry points, inadequate water sources, and no forest management plan. It seems the plan in too many cases is simply, build.
The United States Fire Administration Wildland Urban Interface toolkit provides resources for assessing your community's wildfire risk and promoting local solutions for wildfire safety, including information fire departments can share with homeowners. The Fire Adapted Communities (FAC) Self-Assessment tool, developed by the FAC Learning Network with funding from the U.S. Department of Agriculture's Forest Service, is designed to help communities assess their level of fire adaptation and capacity to live safely over time. Communities can use the FAC Self-Assessment tool to:
Identify community values at risk
Identify the capacity to implement fire-adapted community activities
Assess any gaps or limitations in funding, resources, partnerships and workforce/volunteers
Prioritize future fire adaptation activities
Complement other work plans
Increase understanding of long-term community fire adaptation needs
Surviving amidst forests in crisis
Fire plays a vital role in maintaining the health of many ecosystems. Our failure to plan and prepare to manage the effects of fire is just that – our failure.
Firefighters play a crucial role in WUI management. In the case of these latest fires, the ferocity prevented firefighters from overcoming them. In most cases, firefighters weren't able to catch up, let alone keep up – running from house to house, neighborhood to neighborhood, in a frantic effort to evacuate in advance of walls of fire, without time to fight fire.
Reducing the loss of lives, property, infrastructure and natural resources from wildfires depends on long-term community action. Fire departments should refer to NFPA 1143, Standard for Wildland Fire Management, to help develop wildland fire management programs. There are a lot of great folks working on the problems – I fear that we are demonstrating they're working in disparate territorial silos.
I agree that there is and has been mismanagement of land use from a national policy perspective. Fire doesn't discriminate and doesn't understand state/federal/local/private borders. When problems affect the masses across borders, those problems require mass problem solvers, not state-by-state or Republican/Democratic problem solvers who find sensitivity easier to swallow than making real decisions that will save lives.
We know changes are needed, and it's time to force real change in land use and the wildland-urban interface, before the land use changes us. It is time for us to collectively advocate for federal policy change that forces improvements in WUI planning and mitigation across federal, state, local and private lands.
Controversial, sure. Yet nearly 7,000 structures and 31 lives later (this time), I say let's take the gloves off and get to work. The firefighters on the front lines who found incinerated human remains and barely made it out with their own lives need support and change, not threats and bluster. The residents of Paradise and Malibu, including the 36-plus firefighters who have lost their homes, could care less what caused the problem at this point – they're just looking for roofs over their heads now. Take care, keep safe, stay smart – our lives depend on it.