Beyond 'traditional' diversity: Seeking diversity of opinion
Much work has been done to embrace a more diverse workforce, but are we open to differing opinions?
---
How many times have you heard the expression "our strength is in our diversity"? Before some of you roll your eyes and move on, let's consider that diversity is about MUCH more race, gender and ethnicity. But what does diversity really entail?
Going beyond "traditional" diversity
We so often focus on diversity as it relates to hiring protected classes, avoiding discrimination and similar critical issues – and the fire service is making strides be more inclusive beyond the majority membership of Caucasian males. Times have changed and must continue to change, but there are still many hurdles to overcome to achieve a truly diverse workforce that represents our communities.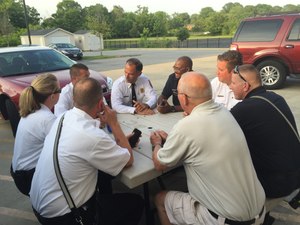 There are countless groups that exist to help ensure fairness and opportunity for all members. Potential members fill out applications, checking boxes to identify their race or gender. Additionally, many departments operate under consent decrees from the federal Equal Employment Opportunity Commission (EEOC), requiring specific actions to expand diversity within the departments.
All of this focuses on a specific type of diversity – one that we've pushed for decades now and that has significant value – but I'd like to see fire service leaders to go beyond this approach to diversity. What I am saying is that as leaders, we should strive to surround ourselves with differences of opinion in addition to the inherent value of differences of race, gender or ethnicity.
I believe that my success as a chief has been, in part, due to being surrounded by so many different people, with so many varied backgrounds and opinions. While some of that representation may have been the result of the consent decree, I tried to find people who could get things done, without having to think, look or believe just like me. People who surround themselves with "yes-people" will find success short-lived and stagnation a surety.
How do we succeed among differing opinions?
Let's be 100% clear: When it comes to the active emergency scene, we must have the expectation of authoritative followership; specifically, there's no room for difference of opinion with Command directives while the building's burning down around you or the patient's crashing in front of you.
Yet let's face it, most days we have far more non-emergent time than emergent time. Leaders should take advantage of these opportunities for attempts at consensus, whether gaining ideas for training evolutions, public education campaigns or even extracurricular activities for members. There's typically plenty of opportunity for fact-finding exercises to determine how different opinions and viewpoints might improve our service.
Tips for embracing feedback
The following tips have helped me when it comes to embracing a diversity of opinions.
1. Ask everyone for feedback: Before the internet, it was difficult to confirm that everyone had the same opportunity to share feedback. Today, most employers provide or require email addresses for their employees or volunteers. As such, make email your official means of communications. Further, require employees to access their work email at regular intervals while on duty, so they can't claim, "I didn't see it." Don't forget, you have to be ready to receive the input, so this might be more than a one-person operation, depending on the size of your organization.
2. Ask one more time: Seek out input from groups that don't typically share feedback. Yes, everyone got the email, but your persistence to make sure you have a wide variety of opinions will pay direct and indirect dividends.
3. Get to know as many of your people as possible: Get out of your ivory palace, onto the street and in the fire stations. You do NOT have to be everyone's friend, in fact, far from it. You don't have to play sports with them, you don't have to take someone to lunch every day or visit them off duty. You DO have a responsibility to know what makes your people tick. Getting out there and getting to know them is the best way to accomplish this.
4. Follow a high ethical standard: Trust, honor and ethics are the cornerstones of the oath we take. If you want people to take you seriously and feel like they can talk to you, and make sure they're doing the right thing, there's no better way to raise those expectations than by demonstrating them yourself.
5. Make a decision: At the end of the day, no matter what feedback you get, YOU, as a fire service leader, have to make a decision. More than once, my decisions have been widely different than what I first started with, due to the different opinions I solicited – and where it's been reasonable and successful, that's OK!
Fresh perspectives
As you ponder your position and your responsibilities as a chief officer, it's imperative that you consider the role of diversity among your ranks. But it's also important to go beyond the more traditional definition of diversity and protected classes to also include diversity of opinion. Differing opinions can challenge long-held beliefs and force us to consider new and often refreshing perspectives and approaches to the service we provide our community.
Editor's Note: How do you promote diversity of opinions at your department? Share your methods at editor@firerescue1.com.