Roundtable: How to improve fire department diversity
Fire service leaders explain why inclusivity creates a stronger department and counter a common area of contention in advocating for diversity
---

By Kerri Hatt, FireRescue1 Senior Editor
By first answering the question, "Why is it important to have a diverse and inclusive department," the Howard County (Md.) Department of Fire/Rescue Services welcomed it's most diverse recruit class in the department's history. Instead of focusing on "what to do" – signs, public service announcements or videos – or "how to deliver messages" – Facebook videos, high school career fairs or open houses – every fire department needs to answer why diversity matters for their fire department.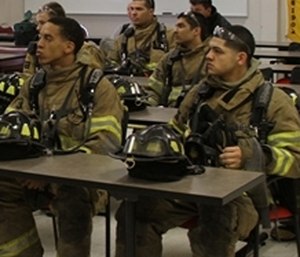 We asked fire service leaders and visionaries to answer why diversity is important in the fire service and how and to counter one of the most common areas of contention when it comes to advocating for diversity.
Our panel included Chief Donna Black, Town of Duck (N.C.) Fire Department; Chief John Buckman, III (ret.), German Township (Ind.) Volunteer Fire Department and IAFC past president; Chief Gary Ludwig, Champaign (Ill.) Fire Department; Chief Brian Schaeffer, Spokane (Wa.) Fire Department; Linda Willing, career fire officer (ret.) National Fire Academy adjunct instructor; and Chief Rob Wylie (ret.), Cottleville FPD (Mo.).
We asked each leader two questions. Read their responses and add your own thoughts in the comments section.
Q: Why is it important for fire departments to reflect the diversity of the communities they serve?
Improve relationships: "It is a fundamental ideological question for local policymakers to decide. Our community has decided that one of our overarching goals in public service is to improve our relationship with the people that we serve. We also believe that a workforce made up of people with different beliefs, backgrounds, experiences, genders/non-genders and ethnic heritages all contributes to improving the overall culture of our organization. Everything that we do is for and about the public – so it is so clear to us that we need be socially accountable." — Brian Schaeffer
Be reactive to the community's needs: "I feel that diversity and a reflection of the communities that we serve is a vital component of the community feeling like they are part of the organization. If they see people that represent their backgrounds and beliefs, I think they will be more willing to participate in the activities and the direction of the fire department. This will in turn make the organization stronger and more reactive to that community's needs." — Rob Wylie
Build stronger teams: "The reason is simple. All teams are stronger when they include a diversity of backgrounds, experiences, insights and abilities. This is true in business, in science and especially true in emergency services." — Linda Willing
Understand points of view: "Our communities increasingly consist of various cultural, racial and ethnic groups. We learn from one another. Diversity allows for learning and understanding other cultures to enhance collaboration and cooperation, which can improve our reaction and ability to provide better customer service, and our sensitivity to others' points of view." — John Buckman
Earn community trust: "While the reality is that fire departments exist to protect life and property during emergency incidents of all types, we also provide the community a helping hand for all types of non-emergencies. We must strive to earn and maintain trust. Where does trust come easiest? With those that we have connection with. The best way to gain the trust of your community is to reflect your community.
"I struggle with the word diversity alone. Diversity of a community is specific to the community. What would be considered diverse in my community would be very different than that of a larger metropolitan department in another area of the country. I think we need to get away from the word diversity and focus on being inclusive. This helps to capture dynamics inside and outside the firehouse. If fire departments can create an atmosphere of inclusivity that is felt outside the fire department walls, perhaps this would create more interest and trust. Now, more than ever, with increasing mass casualty events, communities need to feel safe and protected. This starts well before the 911 call. — Chief Donna Black
Q: Improving diversity doesn't mean lowering standards. How can fire departments improve diversity while maintaining the integrity and quality of recruits?
The stakes are too high: "I would never advocate the lowering of standards for any reason. The stakes are too high. I feel that to improve diversity, we need to reach into our communities at the grade school and high school levels, and actively recruit people who demonstrate the attributes we find desirable, such as team sports participants, students who are involved in community projects and those with an aptitude for the sciences. What kid doesn't want to be a firefighter? That desire is not enough; we need to show them a path and model the attributes we most value through engagement in our schools and their activities." — Rob Wylie
The entry process should not be used as a barrier: We do not lower our standards; we are just applying the same fair standard. If you toured the U.S., even in 2017, you could still find departments that use entry exams that lack scientific validation, ergonomically favor male genders (man-sized boots, bunker gear, gloves, etc.) and are used as a gate to the most honorable profession in the world by bias leaders. That barrier still exists in communities throughout the country. I firmly believe in utilizing a scientifically-designed and validated written exam, the IAFF/IAFC CPAT exam, and an interview process with a diverse group of employees from throughout the organization and the public at large. The entry process should never be used as a barrier to prevent entry to any minority group; it is an equalizer to allow the candidates a fair and equal opportunity." — Brian Schaeffer
It's not about quotas and aligning numbers: "Diversity for fire departments, especially in diverse communities, is vitally important. Contrary to what some believe, that you are fulfilling quotas or aligning numbers, diversity actually strengthens the entire organization and brings about the opportunity for ideas about how to deliver better service and how to address problems. I have personally seen the strength of diversity and the value it brings to fire departments. There is no need to worry about the quality and integrity of recruits when trying to achieve diversity as some would think. My experience has been that there are excellent minorities and women, whom, when given the opportunity, can meet the standards set forth for being a firefighter." — Gary Ludwig
"This is where you cannot take the whole fire service and expect there to be one magic bullet to fix 'diversity.' The vast majority of departments are volunteer or combination. We need to start with what are the realistic expectations and resource needs of individual departments and communities. We can all agree that there are skills and knowledge standards that need to be met to fulfill the traditional firefighter role. The recruitment and retention challenges in my community have required us to look at creative, adaptive solutions that have included support roles for an all-hazards response. In my experience, this change of approach has removed a barrier to attracting a more diverse workforce.
"Inclusivity is what is important to me personally. If you can create that, I believe diversity comes. Do we want to fight fire with only people that are just like us? Diversity in thought, culture, age, skill sets, knowledge, education, gender, etc.; and the acceptance of those differences, opens up any organization to be more productive, efficient and inviting. Again, no one solution will fix every fire department. We need to start in our own fire departments and self-evaluate whether we represent our communities. And if not, identify barriers and do the hard work to find solutions." — Chief Donna Black
More about the panel
Donna Black: Chief Donna Black has been in the fire service for over 20 years. She started her career as a volunteer, and has worked her way through the ranks (as both a paid and volunteer firefighter), culminating in 2006 when she was selected as the fire chief for the Town of Duck (N.C.). Chief Black holds her Chief Fire Officer Designation and is international director of the Volunteer and Combination Officers Section of the IAFC.

John Buckman, III: Chief John M. Buckman, III served 35 years as fire chief for the German Township (Ind.) Volunteer Fire Department. He has served nine years as director of firefighter training for the Indiana State Fire Marshal Office. He is a past president of the International Association of Fire Chiefs and a co-founder of the IAFC Volunteer and Combination Officers Section. Chief Buckman is also Fire Chief's editorial advisor, and serves as a columnist and member of the FireRescue1/Fire Chief Editorial Advisory Board.
Gary Ludwig: Gary Ludwig is fire chief, Champaign (Ill.) Fire Department, and a 39-year fire service veteran. He has written over 500 articles for professional publications and has been invited to speak at over 250 professional EMS or fire conferences or seminars. He is the co-author of several books and author of "Blood, Sweat, Tears, and Prayers – Firefighting and EMS in Some of the Toughest Cities in America." He was the 2014 James O. Page EMS Leadership Award winner. He also serves on the FireRescue1/Fire Chief Editorial Advisory Board.
Brian Schaeffer: Brian Schaeffer is the fire chief for the Spokane (Wa.) Fire Department. He is currently in the final stages of his doctoral education from Creighton University. He serves on numerous local and state public safety and health-related committees, maintains his paramedic credentials, and has lectured on issues such as the psychology of safety and survival, leadership, social justice, and high-performing organizations.
Linda Willing: Linda Willing is a retired career fire officer and currently works with emergency services agencies and other organizations on issues of leadership development, decision making and diversity management through her company, RealWorld Training and Consulting. She is an adjunct instructor and curriculum advisor with the National Fire Academy, and a columnist and member of the FireRescue1/Fire Chief Editorial Advisory Board.
Rob Wylie: Chief Wylie is a 29-year fire service veteran who retired as fire chief of the Cottleville FPD in St. Charles County, Mo. Rob has served as a tactical medic and TEMS team leader with the St. Charles Regional SWAT team for the past 19 years. He is a certified instructor and teaches at the state, local and national level on leadership, counter terrorism and TEMS operations. He graduated from National Fire Academy's EFO Program. Chief Wylie is a columnist and member of the Fire Chief/FireRescue1 Editorial Advisory Board.