Va. junior volunteer firefighter loses home in blaze
Lovingston Volunteer Fire Department Junior Member Travis Burley and four other members of his family were displaced in the fire Saturday night
---
By Laura French
LOVINGSTON, Va. — A Virginia junior volunteer firefighter and his family were displaced in a house fire Saturday night. 
The Lovingston Volunteer Fire Department said in a statement Sunday that multiple agencies responded to the blaze at the three-story home, which spread from the basement, through the walls and into the attic. Due to the type of construction of the structure, fire crews were unable to quickly extinguish the fire, and the house was completely destroyed, officials said.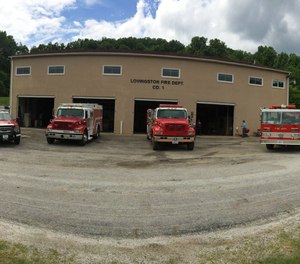 "Our fire department family has been affected by this fire directly. All of our calls affect us, however, it isn't often that we are called to the home of a member and witness them lose everything," the agency said in a statement.
Lovingston Volunteer Fire Department Junior Member Travis Burley and four of his family members — two adults and three children in total — escaped from the house before fire crews arrived, but were displaced and lost all of their belongings. Officials said Burley's family are long-time supporters of the fire department, and that Burley has been an active member for the past two years. 
"He has dedicated time and energy that most people his age will not, for the greater good of the department and the county," officials wrote in a statement. 
An online fundraiser was set up for the family, and Lovingston Volunteer Fire Department Chaplin Dan Magan is also coordinating additional donations from the community. 
The cause of the fire has not yet been determined, officials said.