Book Excerpt: I Was a London Firefighter
David Pike shares gripping accounts of working in the London Fire Brigade
---
The latest book from author and retired firefighter David Pike, I Was a London Firefighter, is an anthology of factual narratives and fictional tales loosely based around the personal experiences of individual members of the London Fire Brigade. The book includes reminiscences by former firefighters alongside descriptions of key historical figures. It tackles subjects like the IRA's 20‑year bombing campaign in London and the changing status of female firefighters, and ends with a description of 2017's Grenfell Tower fire.
The following excerpt is from the chapter "Anatomy of a Fire," following Station Officer Simon Reece – a third-generation firefighter with the London Fire Brigade.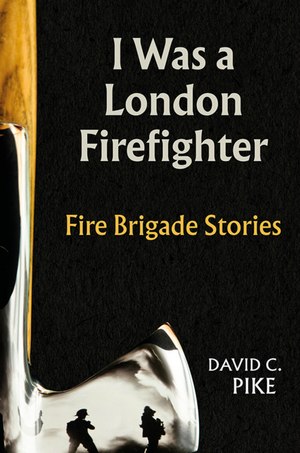 As the exhausted BA teams started to make their exit, Reece knew where he had to be. Standing on the third-floor landing, with the smoke forcing its way down to meet him, was not the place to be.
His eyes were smarting as he made his way to the front of the building ready to direct the reinforcing crews. He had a plan; now he needed the extra crews to implement it.
Bleary sets of eyes read the teleprinter call slip to the eight-pump fire as crews mounted their machines. One particular crew had only returned 45 minutes before from their three-hour relief stint at the Croydon blaze.
Blue flashing lights and bright headlamps cleared what little traffic there was on the road that time of night.
Powerful diesel engines had the fire engines travelling in excess of sixty miles an hour as they converged on the scene of the South London fire. Adrenalin started to course its way through the reinforcing firefighter's veins, heightening both their senses and the anticipation for what lay ahead of them.
A request for eight 'pumps' delivers more than just eight fire engines. Special appliances, emergency tenders, a hose-laying lorry, and breathing apparatus control vehicle (BACV) and the Brigade's major control unit (from the Lambeth headquarters) are automatically sent on. Certain senior fire officers are ordered, others are notified. Some have a specialist function; one of them must take command.
Who Reece might hand over to, he had no idea. At this moment in time he did not even care. He was in command, something he maintained until formally relieved of it.
He checked on the exhausted BA crews as they exited. One individual looked the worse for wear. In fact, he was almost collapsing.
Before getting a briefing from the Leading Firefighter he told the young BA firefighter: "Go and sit by Lewisham's pump."
He detailed another firefighter to assist the distressed firefighter out of his BA set: "Sit him down, remove his tunic and cool him down with some water. As soon as the ambulance arrives get the crew to check him over. If he gets worse, tell me immediately. Understand?"
Then, turning back the BA team, he listened intently to their report before saying: "Well done lads. Get your cylinders changed and be ready to recommit. This is going to get worse before it gets any better."
Time seemed to stand still as Reece waited impatiently for the reinforcements to arrive. But it didn't, of course, and certainly not where the fire was concerned. It was consolidating its hold.
Deptford's pump and his own pump-ladder were the first 'make-up' crews to arrive. Crews that Reece not only knew but trusted. They were quickly followed by the BA Control vehicle from the Lewisham Divisional headquarters, crewed by its two junior officers: A Sub Officer and a Leading Firefighter.
Reece's plan was to seek out and attack the fire on two fronts. Crews would be committed via the main staircase and the rear fire exit.
East Ham's emergency tender crew were detailed to pick-up from where Deptford's crew had left off. With instructions to add an additional length to their hose line, Reece wanted them to have greater range on the fire floor. Deptford's pump crew, wearing BA, were to back up the ET crew and provide a covering jet for them. New Cross's crews were instructed to make a forced entry into the fourth floor and get a hose line to work from the fire escape. They were then to commit a BA team to search for and attack the fire.
Reece's Sub Officer covered the rear of the building. There was no discussion; they all knew what to do and what was expected of them. Reece realised that there was little hope of finding Ernie alive if he had been on the upper floor. Nevertheless, he reminded them that Ernie was still unaccounted for.
There was a controlled sense of urgency as the firefighters went about their allotted tasks. Some did not need telling. The two staff officers, manning Lewisham's BACV, certainly didn't. They were already going about their tasks. One was setting the vehicle up as the control point whilst the leading firefighter collected the nominal roll boards from each of the fire engines. Others would be brought to them until the major control unit arrived and took over but until then the BACV crew had its work cut out.
Austin Macauley Publishers
Copyright © 2018 by David C. Pike
Find it on Amazon.
About the author
David C. Pike was a London fireman who started his long career as a 'junior fireman' at the age of 16. He learnt his trade craft the hard way, including serving, and commanding, the Capitals busiest and most challenging fire station, Brixton. Awarded the Queen's Commendation for Brave Conduct he also rowed himself into the Guinness Book of Records whilst raising many thousands of pounds for charity. A fireman first and foremost he provides a valuable human story, and history, of London's fire brigade through the pages of his four award winning books. Retired in senior rank he now enjoys walking, writing, and lives in North Devon.