Firefighters happen upon house fire, evacuate unaware residents
Firefighters were walking back to their engine after battling another blaze when they saw a glow down the street
---
By Randi Rossman
Press Democrat
SONOMA, Calif. — Sonoma Valley firefighters late Monday night had just finished a medical aid call when they spotted a nearby house afire and evacuated the unaware couple and their four pets before firefighters put out the blaze, according to a Sonoma fire official.
The Bowen Court fire caused about $100,000 damage, mainly to the roof and attic of the split-level duplex, although a few rooms had water damage, Battalion Chief Bob Norrbom said Tuesday.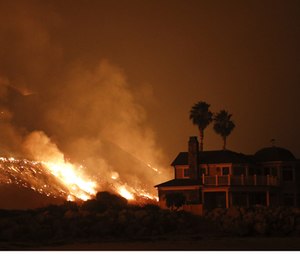 Firefighters were walking back to their engine about 11:40 p.m. when they noticed a glow down the street and went to check, Norrbom said. Flames were burning through a section of the roof of a home and the firefighters pounded on the front door, alerting the owners.
Despite the attic and roof burning, smoke detectors hadn't gone off because the smoke was shooting out a hole in the roof, not spreading into the residence. The fire hadn't been reported and firefighters alerted dispatchers and two more Sonoma Valley engines and a ladder truck responded.
The couple and their two cats and two dogs were evacuated safely, although one frightened cat had to be retrieved by firefighters. "We rescued the cat for them that was hiding under the couch," Norrbom said.
Residents in the adjoining duplex also were evacuated but that residence wasn't damaged and they were able to return.
The home, near Arnold Drive and Boyes Hot Springs, is occupied by owners Steve and Eileen Castelli. The fire started in the attic and the cause was under investigation Tuesday.
Copyright 2017 Press Democrat