Wingspread VI prepares for liftoff
Fire service leaders take a run at naming and fixing the industry's major issues at the once-a-decade retreat
---
More than 40 fire service leaders hugged and shook hands Wednesday afternoon as they filtered out of the Johnson Foundation's Wingspread complex in Racine, Wisconsin to return to the grind of normal life.
Wingspread is a think-tankesque event that happens once every 10 years and draws the fire service's best minds to identify the big issues the service must confront. This was Wingspread's 50th anniversary.
This year's cast included some of the industry's greatest legends like Alan Brunaicini, Sal Cassano, Billy Goldfeder and our own John Buckman. It included some up-and-coming leaders like Byron Kennedy, Becki White and Trisha Wolford. One could easily add another 50 names to the list of those who deserved to be there.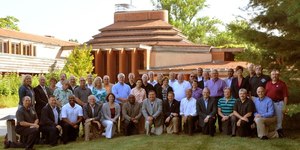 I doubt I'm the only one who felt a twinge of melancholy when the event was over. It's tough to leave a group you like, respect and admire.
Despite being intellectually pushed and challenged during the retreat, the real heavy lifting for the Wingspread group is yet to come. Over the next few months, organizers and participants will be winnowing down stacks of information from brainstorming sessions into concise and actionable statements about making major improvements to the fire service in the coming years.
Those actionable statements will likely number around 15 and cover the main topics of the future, education, technology, the economy and the big six (members, customers, operations, facilities, apparatus and equipment, and sustainability).
And just as big of a challenge as the winnowing and refining process will be bringing that information to the fire chiefs, officers and firefighters to set in motion real and meaningful change.
Over the three days there were many great ideas and insights, as well as a few disagreements. What was unanimous, though, was our intent to not have the final document lie around collecting dust until preparation for the next Wingspread kicks off.
We want it to be impactful.
And that was the price of admission to get into the Johnson Foundation's Wingspread complex. The foundation expects those who meet there to come away with game-changing outcomes. For example, one similar meeting paved the way for the formation of National Public Radio.
"This isn't in our target field of interest," Roger Dower, president of the Johnson Foundation, told the group on the first day when discussing industries the foundation typically supports. "But it was a no-brainer given the mission and history of doing great work."
Wingspread organizer Dennis Rubin said that if 2 percent of the fire service uses the report in a productive way, it will be a success. Others raised the bar to 5 percent.
Making a lasting difference is a tall order, even for groups as well organized as the National Fallen Firefighters Foundation and it's 13-year push to improve firefighter safety using the 16 Life Safety Initiatives.
Two to 5 percent is how market research companies measure the success of surveys. And think how much easier it is to complete and return a survey than it is to implement changes to the fire service.
Like private-sector companies, the fire service needs both pragmatic and lofty goals to move the needle — thinking big matters. What I expect to see come out of Wingspread is a pragmatic pathway to reach those lofty goals.
Dower had this to say of Wingspread's opportunity: "If you bring remarkable people together in a remarkable place, remarkable things happen."
I want very much for him to be right.